2020 ANNUAL REPORT
Warm Regards from the desk of Idhayangal Charitable Trust (ICT). Year 2020 has been unforgettable for all of us due to various reasons. While COVID-19 has been dominating the year, we choose to remember 2020 for a variety of positive reasons from the perspective of ICT. In spite of all the difficulties, we have supported all our children only due to the absolute generosity and faith of all our donors, expanded our work to Kerala and Karnataka, reduced hospital admissions to a great degree, reached a "Century milestone with insulin pump therapy for underprivileged, got connected with great philanthropists and organisations like Single Teacher Schools, CUB, Repco Home Finance, Augustan Knitwear, Water Tec, Right to live, Fueladream, Rotaries, Lions, Nallaram Trust, Gowtham Memorial Trust and much more. Here are our reminiscences from the year 2020.
CENTURY FROM COIMBATORE AND PHOTOGRAPH OF THE YEAR
This century has been the best century for India in the year 2020. We have crossed the landmark of 100 insulin pumps for the deserving underprivileged children with Type 1 diabetes and will rank as the single most rewarding work of ICT this year. Insulin pumps are life changing gadgets that means no injections, excellent glucose control, significant reductions in hospitalisations and quality of life. With a price tag exceeding one lac and consumables costing Rs.9000 per month, this is beyond the wildest dreams of underprivileged children in India. We are able to run this programme only due to the sheer generosity of all our contributors. Since this programme, we have shown a great reduction in glucose levels, a 90% reduction in hospital admissions due to diabetic emergencies or low glucoses, an excellent improvement in quality of life hopefully reduction in kidney failure and dialysis in the long term. We have focussed especially on children with very brittle diabetes, girls getting married and planning pregnancy and those with advanced kidney failure awaiting transplants. We are so happy to have attended at least 6 marriages of girls with Type 1 diabetes across the state and showing a track record of 100% successful outcomes in pregnancy courtesy of the insulin pump programme. We are thankful to all our corporate donors and Medtronic India to have given us all the support to enable this programme. Below are some of the images that speak thousand words. Photo of the year: Jothi living in an orphanage, now residing with her cousin in what is supposed to be called a house in the background, depths of poverty with glucoses of 600 mgs/dl doing extremely well on insulin pump therapy, she has finished her college and now in gainful employment as an apprentice. She has been selected as the Ambassador for ICT. If she can, anyone can! Heart-warming for all ICT Team to see this kid showing such grit in the face of severe adversity. On the left: Nivitha from Dalmiyapuram with glucoses 600 mgs/dl doing extremely well on the insulin pump, heart-warming photo with our team. On the right: Renuga and her mother from Atthur, very poor family, dad sells fruits at Athur bus stand, showing what she can do with a helping hand and an insulin pump.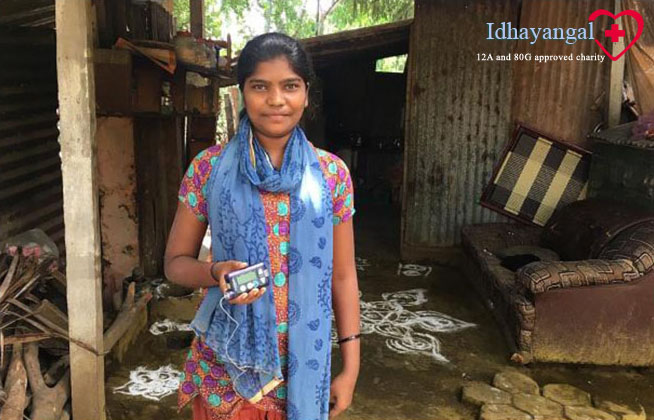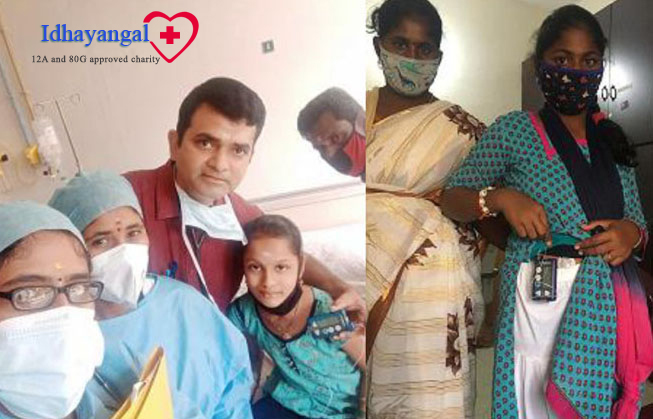 HEALTH INSURANCE PROGRAMME
Courtesy of great philanthropist individuals and organisations, we have extended our Star Health Insurance to 75 underprivileged children with Type 1 diabetes. This is a unique programme done through Idhayangal Charitable Trust that offers peace of mind to families of underprivileged children by offering a Rs 2 lac health insurance cover for any diabetes or even non-diabetes related admissions. Many children's lives have been saved through this flagship programme. We sincerely thank Augustan Knitwear, Star Health Team and all our contributors in enabling this programme.
EDUCATIONAL SUPPORT AND EMPLOYMENT FOR GIRLS WITH TYPE 1 DM
This issue is close to our heart and we take great pride in ensuring that girls with Type 1 diabetes especially from the lower socio-economic strata get a good education of their choice and placements that would make a huge change in the quality of their lives. Jeevitha (left) with Type 1 diabetes for the past 6 years has now completed her B Com with support from Idhayangal Charitable Trust contributors generosity and has been employed as a Junior Accounts Manager at Idhayangal, a proud moment for all of us. Anu Bharathi, (right)Type 1 diabetes for 5 years, supported by Idhayangal for her Teacher Training course, receiving the second-year tuition fees, we dream of a day when she becomes a teacher and a role model for other children from ICT. Hemalatha (below) supported for her BSc Microbiology course by ICT and receiving her college fees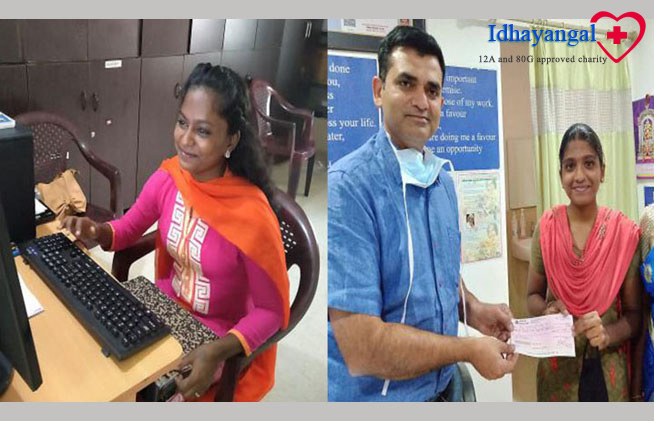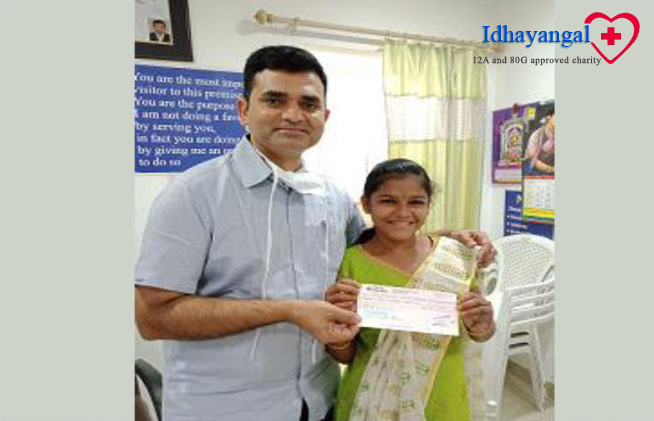 ICT OUTREACH ACROSS INDIA
2020 has been a year for ICT to expand our work to other parts of Tamilnadu State, Kerala and Karnataka. Our dream is to be the best pan-Indian Charity for Type 1 diabetes. Currently, children from Dindigul, Bathlagundu, Madurai, Theni, Mayavarum, Kumbakonam, Vandavasi, Tiruvannamalai, Pondy, Chennai, Palakkad, Trivandrum and Bengaluru are benefitted by our support. We are extremely grateful to our medical colleagues in these areas for joining hands for the betterment of our children. Idhayangal outreach programme: Three insulin pumps as well as a Rs 1.5 lac support for underprivileged children under the care of Dr Santhosh Olety based in Bengaluru. Their team is doing excellent work for deserving children through the Karnataka Institute of Diabetes Benevolent fund (K.I.D)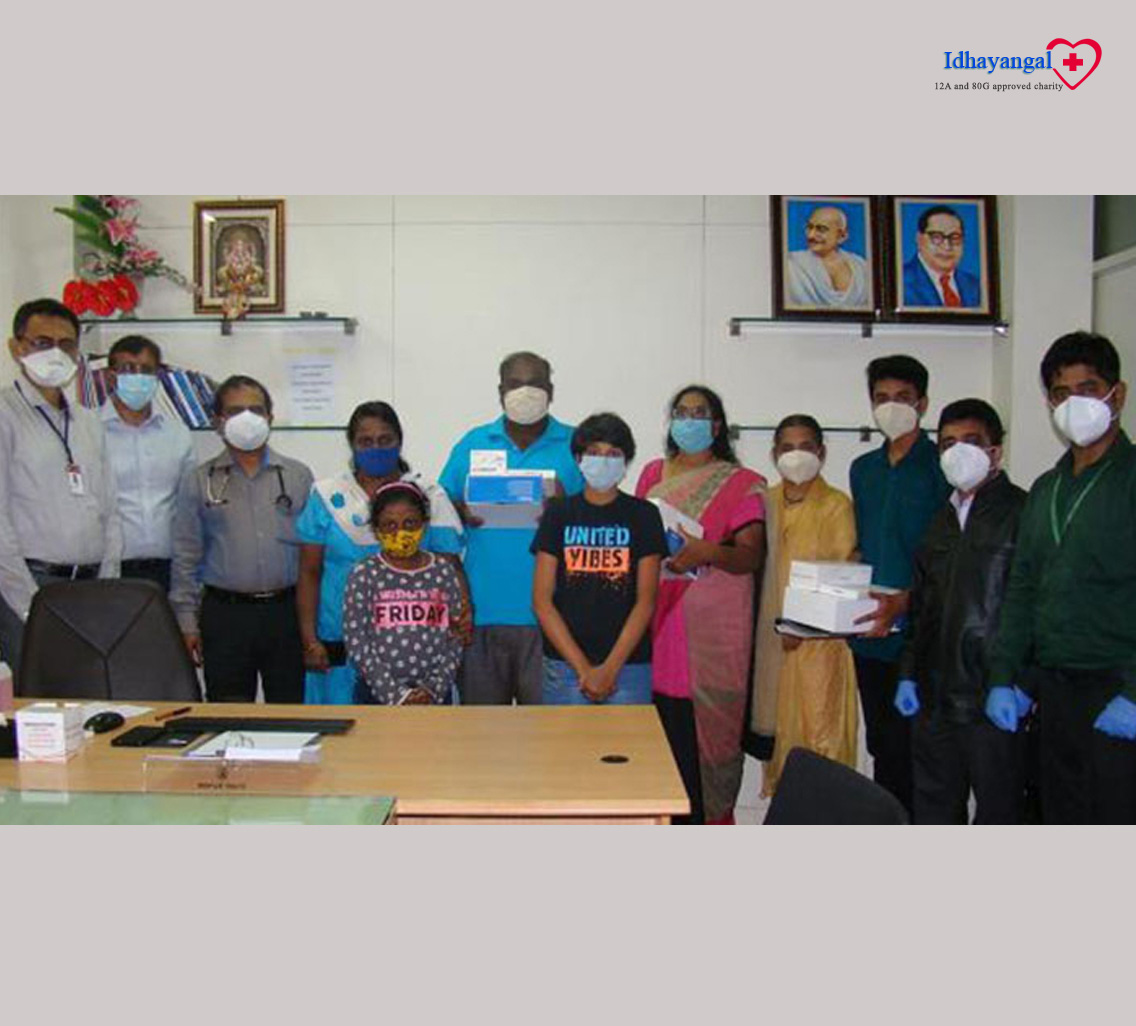 CORPORATE SUPPORT 2020
Shri RP Krishnamachari/ Texbiosciences/ Single Teacher Schools 2020 Our sincere thanks to Shri RP Krishnamachari from Single Teacher Schools and Texbiosciences. If one needs to see Godliness in humans, Shri Krishnamachari is the walking example. While his service to society is beyond words and comprehension, we are extremely grateful to the Almighty and Ln Srinivasa Giri to have introduced him to us. The immense contribution of Rs 20 lacs from Shri Krishnamachari has single handedly saved many children's lives this year. Thanks is a word that pales in front of his immense generosity and kindness. Dr. Sujeetha & Dr. Krishnan Swaminathan (left) with the first donation of Rs 10 lacs from Shri RP Krishnamachari, our children Jennifer, Janani and Abinaya (right), few beneficiaries of this immense support holding the next lot of Rs 10 lacs. More beneficiaries from Texbiosciences/STS project along with co-trustee Shri Jayaprakasam (below).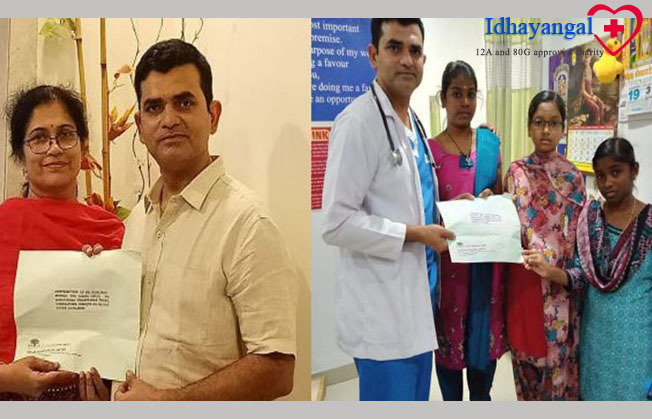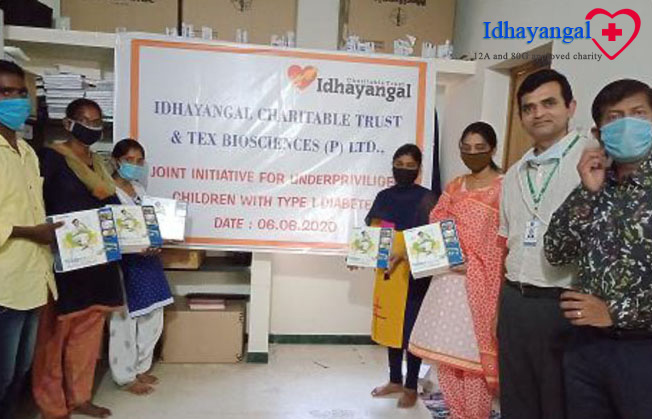 Kumbakonam City Union Bank Support 2020
We are immensely grateful to the entire team of CUB for their immense support by donating Rs 10 lacs during an extremely difficult time for the banking industry. This support has transformed lives of deserving children with Type 1 diabetes. Our sincere thanks to Shri Kamakodi, Shri Ramesh, Shri Balasubramaniam, Shri Kumar Jayaraman and the entire CUB team.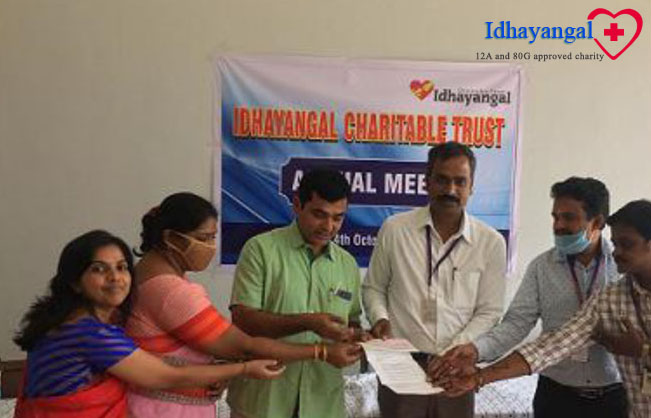 NALLARAM FOUNDATION SUPPORT 2020
We are extremely grateful to Nallaram Trust led by Shri SP Anbarasan. Without much fuss, Shri Anbarasan donated Rs 10 lacs towards our children for insulin pumps and consumables. Beneficiaries were very deserving children from Coimbatore, Salem and Kallakurichi.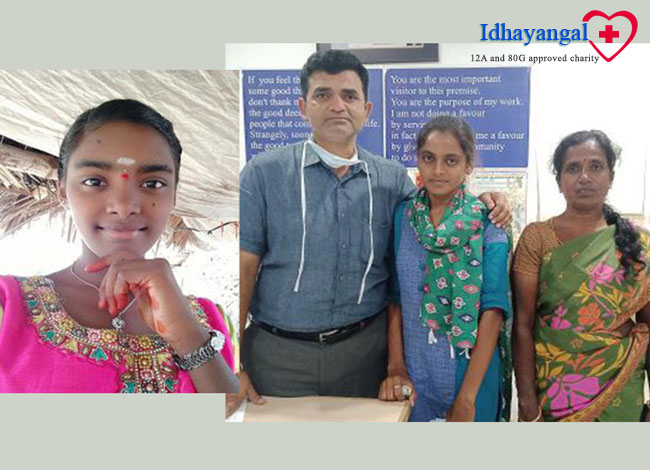 REPCO HOME FINANCE SUPPORT 2020
Our immense thanks on behalf of all our children to Repco Home finance for donating Rs 12.5 lacs towards our deserving children. Our sincere thanks to Chairman TS Krishnamurthy, MD Shri Yashpal Gupta, CSR Head Mrs Anita, CS Shri Prabhu, Mrs Meenakshi and the entire team from Repco Home finance. About 20 children will benefit this project due to be rolled out in Jan 2021. Selvi Sweta comes from a very poor family in Athur, very bright girl, completely malnourished with glucoses 600 mgs/dl, now doing extremely well, one of the beneficiaries of Repco Home's support, Selvi Krishnadeepa from Ottanchatram, one of the beneficiaries as well, from a very poor farming family.
ROTARY SUPPORT 2020
Our sincere thanks to Rotary Galaaxy, Coimbatore for continued support to our children through the Flagship Project Mathuram, photo below of Rs 4 lacs support this year. We are greatly indebted to Rotary Club of Coimbatore Central for their support with international partners and Rotary International for Project Kathir, supporting close to 40 deserving children with Type 1 diabetes to the tune of 95,000 USD. Our sincere thanks to Rotary Club of Metropolis, especially to Shri Rtn VSS for their Rs 5 lac grant for essential insulin supplies. We also wish to thank all Rotaries across the country for supporting our cause, Rotary Texcity, Rotary Club of Nammakal Educational City, Rotary Club of Sakthi Mahalingapuram, Rotary Club of Vandavasi, Kumbakonam and Rotaries in Bangalore to name a few. Rotary support is a life-line for many of our projects and on behalf of all our children, we wish to thanks all our Rotary partners in doing their part to make our children's lives better. Rotary Coimbatore Gaalaxy support with a fund of Rs 4 lacs (photo above). Ongoing Project Kathir, a Ray of Hope project (photo below) to support 40 deserving children with Type 1 diabetes for 3 years through a 95 K USD grant in association with KMCH, Rotary Club of Coimbatore Central, ICT, International rotary partners and Rotary International.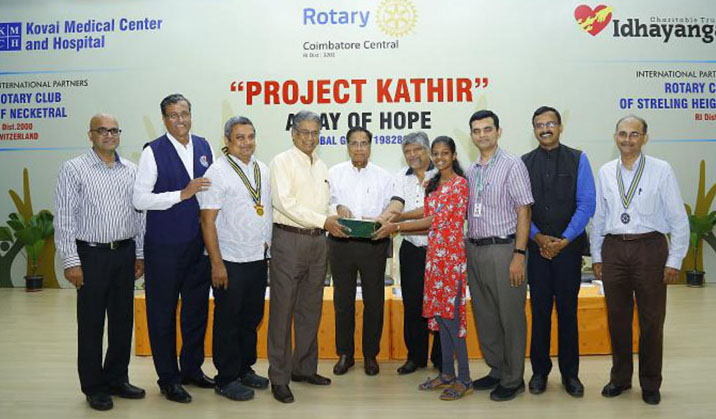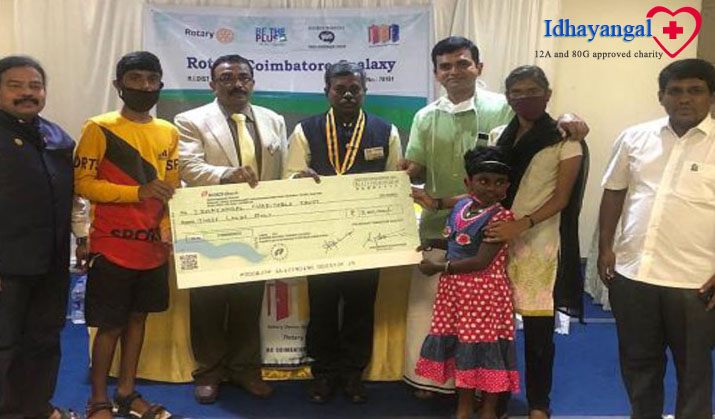 LIONS SUPPORT 2020
We have been blessed to get the support of Lions Clubs in Coimbatore, Erode and other parts of the state. Our sincere thanks to Ln Srinivasa Giri from Kovaipudur for his contributions and connections to help our children. Our thanks as well to Lions Club of Erode Midtown and all the Lions Clubs in Coimbatore and Karur for their immense support. One of our patients Saktheeswaran with advanced kidney failure on dialysis is able to survive only due to Lions generosity. His mother is now a donor and the renal transplant is expected any time soon. Lions Club of Coimbatore Hill City (Kovaipudur) and Erode Midtown have supported this boys' insulins and insulin pumps to tide over the dialysis time. Our sincere thanks to Ln Srinivasa Giri and Ln Venkataraman on behalf of this family. Saktheeswaran lost his father, his mother works as a labourer and he is the breadwinner of the family. This renal transplant will hopefully get back his life. Saktheeswaran, (left) a boy with advanced renal failure on dialysis is able is able to survive only due to the absolute generosity of Lions Clubs (Kovaipudur and Erode Midtown). He is on the brink of renal transplant and this would-be life changing. On the right is Selvi Ramya from a very poor farming family near Palani, one of the beneficiary of Lions support.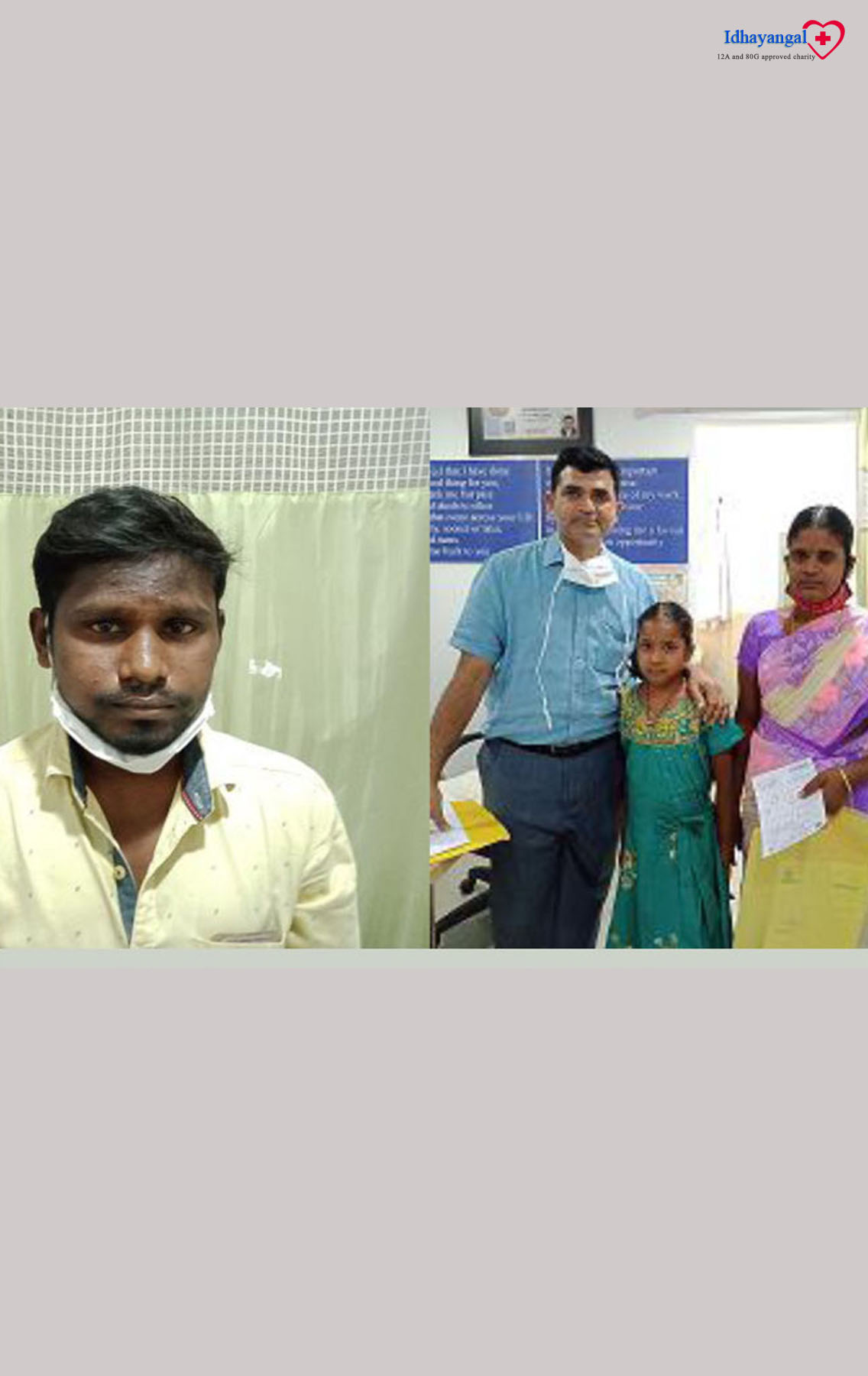 Right to Live Projects 2020
We are immensely grateful to have known the Right to live Team based at Bangalore for the year 2020. Sincere thanks to Shri Raghuram Kote, Shri Sridhar, Veeresh & Sambhavi for all their efforts in raising valuable funds through their crowd funding platform Right to live. RTL has raised close to 8 lacs during 2020 for helping our children. One part of this fund has been life saving for Saktheeswaran in helping with the actual renal transplant surgery costs. ICT team had learnt a valuable lesson from RTL team, help without prejudice or expectations. Kaniga, aged 8 years, one of the beneficiaries of RTL funds. She had close to 15 admissions with diabetic emergency due to brittle diabetes and she is now leading a healthy life thanks to support by RTL
Fueladream 2020
Idhayangal joined hands with Fueladream, a crowd funding platform unique for working with more than 100 schools across India led by the visionary Ranga, as he is affectionately known. Ranga has dedicated his life towards working with school children in raising awareness on social responsibility at a young age. It has been a dream for us to get associated with Fueladream during 2020. Even in the midst of the raging pandemic, Fueladream partnered with CS academy based at Coimbatore to raise more than 3 lacs for Idhayangal through students from Class 9-12. We are immensely grateful to Dr Vikram & Dr Sitara from CS academy for giving us this opportunity. This fund has been life changing for a lot of deserving children with Type 1 diabetes.
Thanks to all Contributors and well-wishers 2020
We are proud and humbled to get continued support from philanthropists in and around Coimbatore including Water Tec, Deccan Industries, Lakshmi Ceramics, ITF, Shiva Texyarn, Best Engineering, DK Traders, RA Mills, Rajaratna Mills, Propel Industries, Sreesakthi Engineering, CRI pumps, Catalyst Groups, CAV Roadlines, MTK Textiles, SKT Matriculation School, Vesta Informatics, Tessolve, Roots India, Poppy's knitwear, Olirum Erode Ultimate Alloys to name a few. However, we are extremely thankful for every single donor and well-wisher who have showered their time, love, affection and their hard-earned money for the welfare of all our children starting from those who have given funds from ten rupees to 20 lacs. Every single contribution, no matter the amount, from every one of our well-wishers especially during a year as tough as 2020, has been life saving for all our children supported by ICT and we are deeply indebted for all your support.
Future directions: Looking forward to 2021
Our goals for 2021 Foray into Tier 2 and 3 cities across our State to extend our support to hundreds more poor children with Type 1 diabetes. Extend our support to other states across India Increase health insurance coverage for all our children Lobby State and Central Government health Ministry to do more for Type 1 diabetes across India Create a corpus of Rs 5 crores to ensure stability and continuity of our work To scale up Project Vanavil where adopting a child by one donor for Rs 3000/ month will help us move to the next deserving child on the waitlist. Idhayangal Charitable Trust does not exist without your support and wishes. On behalf of all our children, we wish to thank you all profusely for the enormous support during the year 2020. We wish you, your family and friends a very happy, prosperous and safe 2021.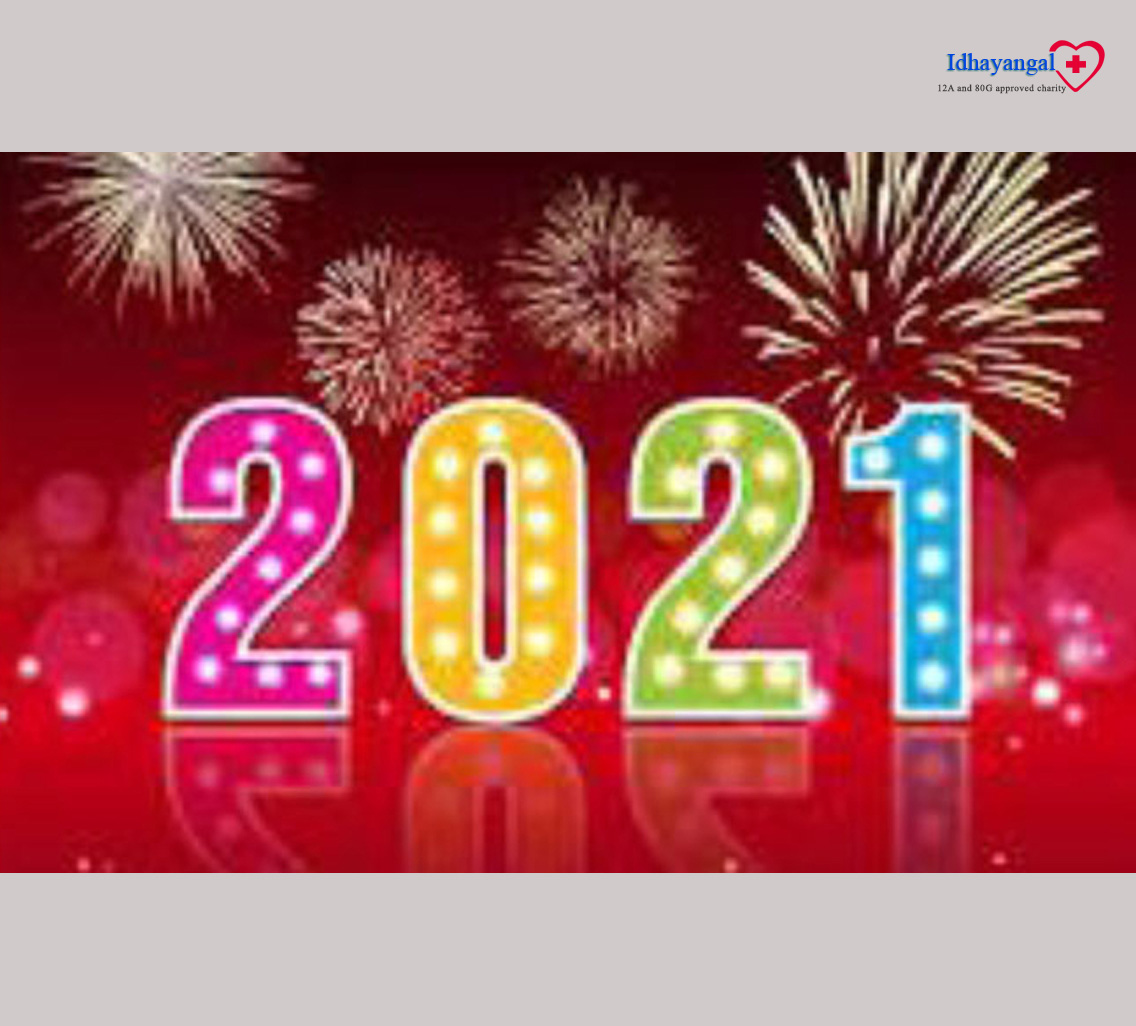 SEP - OCT 2020 NEWSLETTER
Dear Contributor/ Well-wisher
Warm Regards from the desk of Idhayangal Charitable Trust. Hope you are all keeping safe during these difficult times. We at Idhayangal are absolutely humbled by all of your generosity during the toughest time of the decade. In spite of all the difficulties, all our well wishers have been so generous that we have been able to keep up the support to all our children during this time, added more children from Chennai, Vandavasi, Kumbakonam, Madurai, Dindigul districts as well as Trivandarum and have been able to reduce hospital admissions close to zero. We have no way of repaying all your kindness to our children other than ensuring that all our beneficiaries should grow up into responsible adults to give something back to the society as you have done!
In this edition of September / October 2020 newsletters, we have the following updates
Heart-warming story of Jeevitha
Kindness from CUB
Project Vanavil updates
Heart-warming story of Jeevitha
To come from a very difficult socio-economic background and in addition having difficult to control Type 1 diabetes, a dad who had lost his arm and works as a part-time security for Rs 7000 per month, two siblings younger to her is a testament to the tenacity of Jeevitha (photo above). When I first saw Jeevitha four years ago, she was needing about 60 units / day of insulins, very poor diabetes control on multiple injections per day and struggling to cope financially with the burden of diabetes and insulins. Her 3-month average was 10% indicating a high risk of kidney failure in the next few years if uncontrolled. Since then she has been a beneficiary of all your generosity and goodwill. She is now on an insulin pump, doing exceedingly well, her last 3-month average is 6.4% which means very low likelihood of kidney failure and a normal healthy life. She has also finished her B Com for which she had complete funding support courtesy of yourselves and the Trust for the last years. She dreams to finish her CA part-time and we have promised support to do whatever she wants in education. She has been offered placement at Idhayangal Charitable Trust as a Junior Accounts Manager with a payment that will help her family. Jeevitha's story is extremely heart-warming as it shows what our children can achieve given the right kind of support. Our dream is to ensure that all our deserving children grow with the right mind-set, take care of their diabetes properly and lead healthy productive lives not only for themselves and their families but to our society as well. Thanks to all of you for making this happen.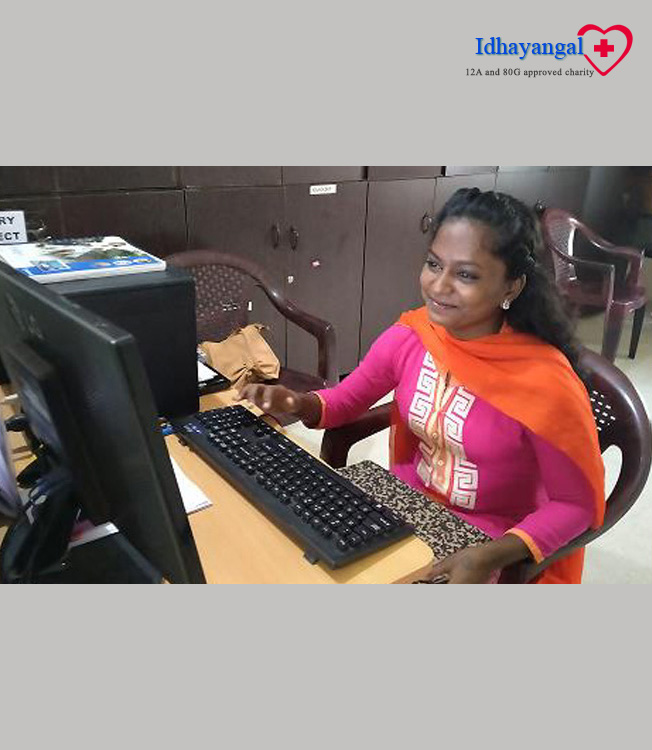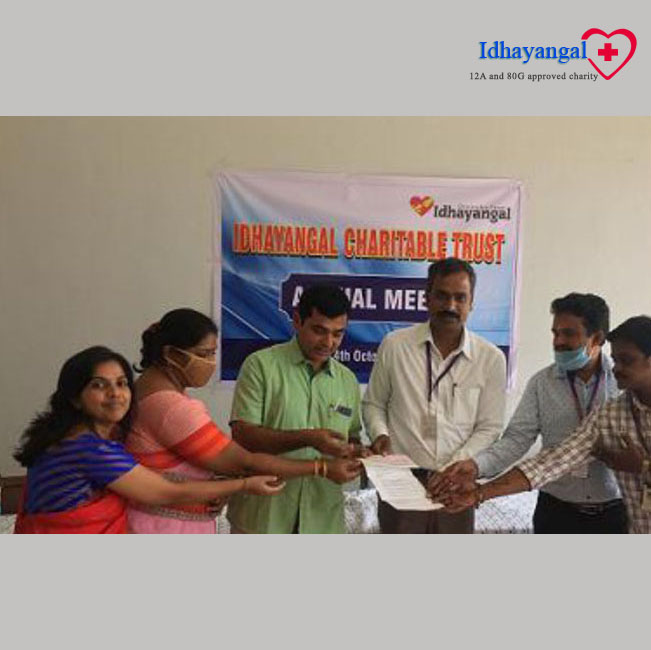 Kindness from CUB
No one can be faulted for not wanting to open up their CSR funding when losses are mounting everywhere. However, Kumbakonam City Union Bank chose to do otherwise. The CSR team not only opened their purses to help our deserving children through their CSR grant but they also opened their hearts to support our cause. I still remember a sunny afternoon at Kumbakonam meeting with the CUB team requesting support for Idhayangal. What struck me was the simplicity and the faith that all the executives had at CUB including MD Shri Kamakodi, Senior GM Shri Ramesh and Shri Balasubramanian. Immense thanks to Shri Kumar Jayaraman for facilitating the meet. However, corona struck and times were difficult. The CUB team did not waver from their word and once the CSR discussions opened up, a 10-lac grant was sanctioned for Idhayangal Charitable Trust. Thanks is such a small word for their generosity. The DD was given at a simple function recently with their team from Coimbatore region. (Photo above). On behalf of all our deserving children, we wish to thank profusely CUB and their team for helping our children during this time of need.
Project Vanavil: Adopt a child for 36 K per annum
Our current flagship Project Vanavil is off to a good start. Adopting one poor child with Type 1 diabetes for Rs 3000 per month or 36 K per annum is life changing for the child and their families. This will help us to move onto new children who are on the waitlist, there are hundreds of children on our waitlist throughout the State. We are extremely grateful to all donors who are a part of this project along with Rotary Club of Coimbatore Gaalaxy who have adopted this program as a flagship cause. Please pass this leaflet below to all your contacts, friends, families, suppliers or business groups. Donors can also start with how much ever they wish; no amount is small. For example, we have 6 donors contributing Rs 500 each that would help one child. Each child will be assigned to the donor and updates on progress will be sent once every 3 months. We wish to thank all of you for your compassion, generosity and kindness. Kindly stay safe during these difficult times. On behalf of all our children, we wish you and your family health, wealth and peace.
JULY - AUGUST 2020 NEWSLETTER
Warm Regards from the desk of Idhayangal Charitable Trust. Hope you are keeping well during these difficult times. All our children from the trust are doing well thanks to all your support and generosity. Here are the updates for this month. The heart-warming progress of Raghavarthini Can I have a selfie with you doctor? The great story of Samar Adopt a child with one insulin pump for 50 K only Project Vanavil: Adopt a child for one year for 36 K only
Can I have a selfie with you doctor? The great story of Samar
Sometimes, people wonder why we (our Idhayangal Trust team) are doing this work day and night to support children like Samar from Mettur. Samar has Type 1 diabetes, comes from a low socioeconomic background and heavily supported by Idhayangal. This beautiful girl was recently admitted with severe vomiting and high glucoses. On the day of discharge, this little girl hesitantly asked me, Doctor Uncle, can I ask you a favour?. Happily asking her to blurt out the big favour, this girl smilingly asked, Doctor, can I take a selfie with you so that I can see this photo at home whenever I feel like it. If there was an answer as to why our team are working relentlessly 24/7, the answer was in Samar's big favour. This photo below is so endearing, just to see the happy face of children like Samar makes this job worth it. Samar's mother conveys her deepest gratitude to all Idhayangal donors for their generosity and consideration. Insulin pumps are life-changing gadgets that are even beyond the dreams of poor children with Type 1 diabetes. Idhayangal Charitable Trust runs India's largest insulin pump programme for the rural underprivileged. The cost of insulin pumps are around 1.5-2 lacs and we are working closely with Medtronic India, the sole supplier of Insulin pumps in India currently to reduce costs. Through a unique scheme, we are able to support insulin pumps for the underprivileged children if a donor supports 50 K for one pump. This is a huge reduction in costs and we have shown that insulin pump therapy without prejudice in rural underprivileged children reduces hospital admissions, kidney failure and deaths. So, if there are any individuals or philanthropic organisations who are interested in supporting this programme, kindly mail me on snehasswaminathan@gmail.com or call me anytime at 8526421150 or 9042858882 (WhatsApp)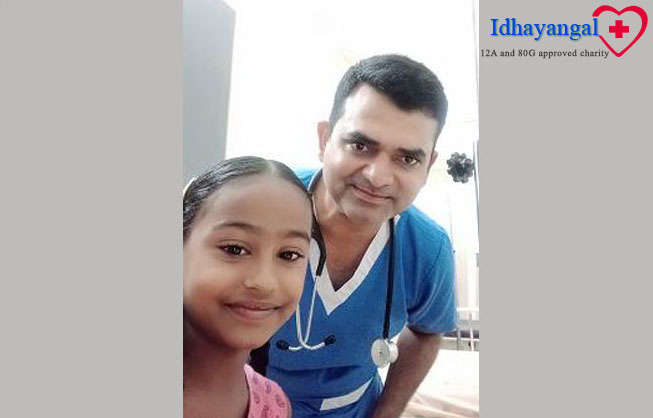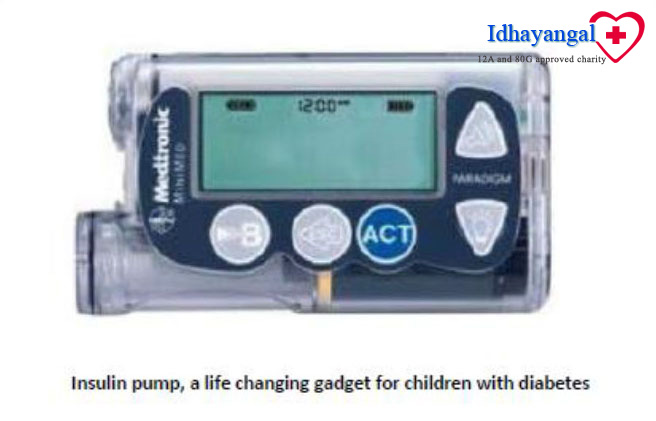 Project Vanavil: Adopt a child for 36 K per annum
Adopting one child for the best insulins and consumables cost Rs 36,000 per annum. This is life changing for the child and their families and we have around 125 children needing this support now. This can be sponsored either as Rs 3000 per month by direct debit or Rs 36 K per annum as an one-off contribution. Regular updates every 3 months will be given by the children or their families. We now have 8 children being adopted by like-minded donors, please get in touch if interested in sponsoring one child for a year. We wish to thank you all profusely from the bottom of our hearts for the graciousness and generosity even during the most difficult times. Keep safe and stay healthy. Warmest Regards
Dr Krishnan Swaminathan
On behalf of all trustees, team and children
JULY NEWSLETTER FROM Idhayangal CHARITABLE TRUST
Dear Well-wisher/ Contributor,
Warm Regards, hope all of you and your families are staying safe during these most difficult times. It has been a huge challenge for all of us here at Idhayangal Trust as well to ensure that not a single poor child is left behind during these times. A lot of poor families are struggling even for basic amenities and the support that all of you are providing at these times is a Godsend. On behalf of all our children, we thank you profusely for your continuous support and contributions. In this edition of ICT Newsletters, we are happy to share some of the mind-boggling support from great humanitarians. We don't need to go to temples to see Gods. They are in the form of donors and supporters like all of you. Here are the updates PROJECT ICT/ TEXBIOSCIENCES
PROJECT SANTHI (PEACE OF MIND)
PROJECT VANAVIL
PROJECT ICT/ TEXBIOSCIENCES
It was such a privilege to meet Shri RP Krishnamachari (Texbiosciences and Single Teacher Schools). They are already doing immense work in the field of education and health throughout our State. A chance meeting in Chennai turned out to be a Godsend for our deserving children through a huge contribution for the Trust under the most difficult of the times. Some of the beneficiaries from this project are below A 16-year girl, poor background, who was transferred to our hospital in a severe diabetic coma and severe blood borne infection. She was given up in a different hospital and was in near cardiac arrest when she came in. Type 1 diabetes for the last 4 years with a 3-month average of 15 % and glucoses 600 mgs/dl (should be 7% in this age). It was battle to save this child and currently doing extremely well on insulins. She had a trial of insulin pump and over the last one month, all her glucose numbers are within the 180 mgs/dl mark. She has received the insulin pump courtesy of Texbiosciences support. For the first time, she feels what it is to be normal.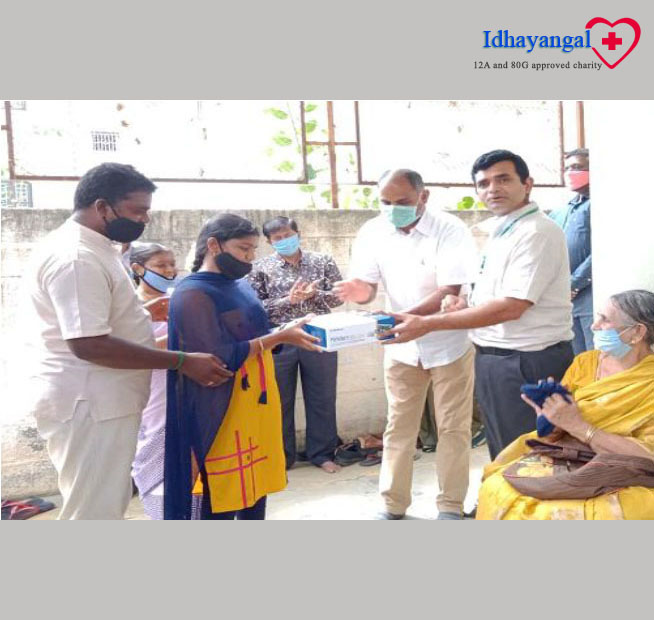 Master Saranavana Balaji
A 12-year-old boy, son of a bus driver, very poor socioeconomic background, with glucoses 600 mgs/dl on admission. Family struggling a lot to fund insulins. Very erratic glucoses and high risk of kidney failure in 5 years. He was one another candidate for the insulin pump, doing extremely well on the trial pump for the past 4 weeks, all glucoses now 200 mgs/dl. Saravana Balaji receiving the insulin pump due to the generosity of Texbiosciences contribution In addition, ten children received the best insulins for the first 3 months, courtesy of this project Each month insulins costs approx. Rs 3000. All the children come from very poor families, with a mean income of Rs 10,000 per month. My dad is in this photo, a senior doctor himself, blessing all the beneficiaries on behalf of all contributors.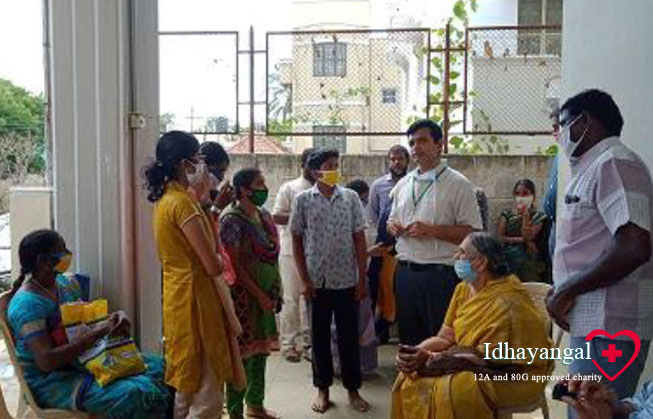 PROJECT SHANTHI (PEACE OF MIND)
One admission with a severe diabetic coma costs a poor family 1.5 lacs and the possibility of death, especially in a poorly equipped hospital. With Type 1 diabetes from a poor background, the sword of a major hospital admission is always there and we believe that a health insurance back up is vital to give a great peace of mind during emergencies. A lot of families are still paying the interest of a hospital admission five years ago! We have to profusely thank Star Health Medical Director and their team to extend this unique programme in India through Idhayangal Charitable Trust, that waives off all pre-existing conditions with a huge discount in the premium that is supported by ICT. Many lives have been saved through this flagship programme. This year, we have been immensely privileged in getting huge support from a great philanthropist who was so generous in supporting this Insurance programme in a big way that helped us to cover more than 60 children with a 2-lac insurance cover for any diabetic or nondiabetic emergencies. Some of the details of beneficiaries are below to get a flavour. This little fighter was admitted with glucoses > 600 mgs/dl and was actually given up in a state hospital. Dad is a labourer earning Rs 6000 per month, cost of a major ICU admission in a good hospital to save this child's life was Rs 1.5 lacs. Thankfully, Raghavarthini is covered under this Health Insurance scheme and her life was saved after transfer to our set up. She is now doing extremely well on four times a day insulin. The family comes from Salem, at least now they have a peace of mind that they can get admitted to a good hospital (God forbid not) in case of any emergency without having to worry about the finances.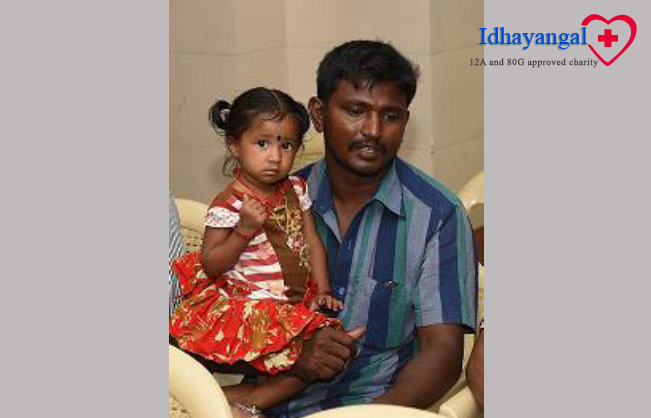 Baby Kaniga
Just 7 years of age with Type 1 diabetes for the past 3 years, kaniga coming from a poor socioeconomic stratum, has extremely brittle diabetes. One episode of vomiting will lead to a major admission with diabetic coma. Last year alone, she had seven admissions and thankfully her health insurance covered all her admissions as we were able to prevent ICU admissions by bringing her in early than later. Her parents are deeply grateful for all your support and wishes to convey their heartfelt thanks to all the donors. These are just the snapshots of the 65 stories of every deserving child that been covered by the insurance. The total cover is Rs 1.3 crores for 65 children for a year. We profusely thank all contributors and philanthropists who have raised funds for this insurance programme that gives absolute peace of mind to all the families.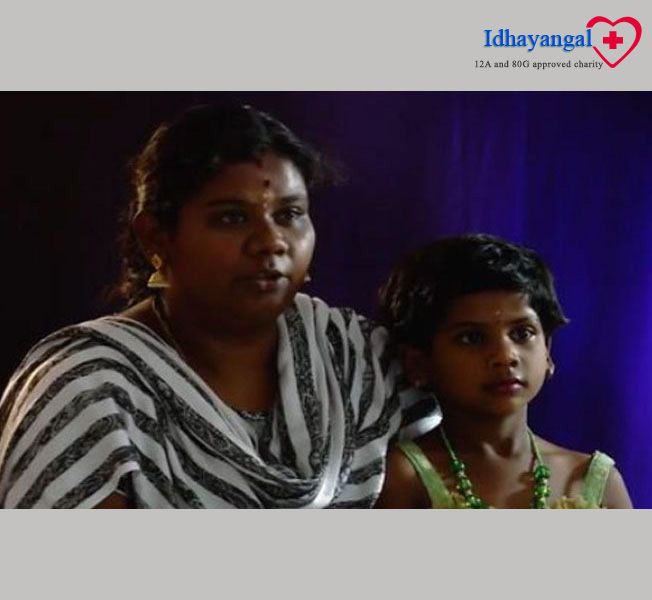 PROJECT VANAVIL
Immense thanks to the Rotary Club of Metropolis, our mentor Shri V.S. Srinivasan, President Shri Vittel for donating Rs 5 lacs under the most difficult circumstances to help our deserving children. Project Vanavil is the apt name for this great project which has given hope to 32 children from the poor socio-economic category. 2 children have benefitted from Insulin pumps, Srividya from Tirupur who has a worrying combination of seizures and Type 1 diabetes and Kaniga, who has had around 15 admissions with brittle diabetes coma and a deserving candidate for insulin pump therapy. Photos will be updated next issue. We salute Rotary Club of Metropolis for their immense generosity during these times, considering the amount of funding required for their own flagship projects which are life changing for a lot of fire victims in and around Coimbatore. We also take this opportunity to thank a lot of individual donors who have kept us going. They are all our unsung heroes. We are greatly indebted to every one of you Wishing you all the best of health, wealth and peace and warmest Regards
Idhayangal NEWSLETTER APRIL MAY 2020
Dear Contributor/ Well-wisher
Warm Regards from the desk of Idhayangal Charitable Trust. Hope you are all keeping safe. It has been an extremely tough 2 months on account of COVID-19 for Idhayangal Trust as well with plenty of contributions/ donations on hold or diverted due to this emergency. We wish to thank all of you for your continued support in spite of the difficult circumstances. Here are the following updates Out of sight, always in mind
COVID-19 & ICT
Star Health Insurance for 100 children, our dream
Right to live, a big thank you
ICT, CSR Approved now, please connect us
Out of sight but always in mind
There is a saying Out of sight, out of mind, however for Idhayangal Trust, we see the reverse Out of sight, always in mind. We are deeply grateful and absolutely humbled by our friends in Birmingham, UK led by Shri Muthu, Mrs Easwari and the AORTAN Tamil Association of Birmingham. Though out of sight from India, they have always kept our children in mind. This team had raised approx. Rs 60,000 for Idhayangal Charitable Trust for their Pongal celebrations, we have absolutely no words to thank them for their efforts in spite of their busy schedule. To add to this generosity, Dr Krishnaveni, Dr Sudharshan & Dr Chitra from Solihull & Stoke on Trent, UK had raised Rs 40,000 to Idhayangal through charity fundraising by selling food. The icing on the cake is Master Rithvik's generosity. Hardly ten years of age, residing in the UK, Rithvik decided not to take any gifts for his 10th birthday, instead requested his friends to donate to Idhayangal. He had raised 320 British pounds (approx. Rs 30,000) from his friends to help our deserving children. I wish I had one billionth of his thoughts at his age. On behalf of all our children, trustees and well-wishers, we wish the AORTAN Team, Drs Krishnaveni, Sudharsan, Chitra, Muthu, Easwari, Rohita and Rithvik all the very best. A big salute to all of you, Out of sight but always in mind A big thanks to AORTAN Team from Birmingham, Patriotism is not defined by where one lives but what one does for the underprivileged back home from anywhere in the world!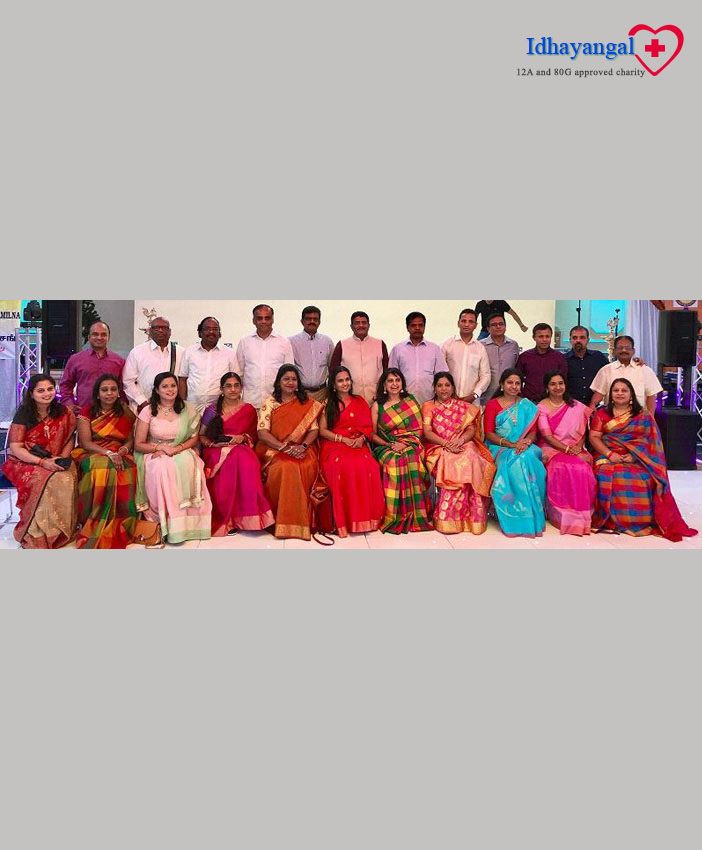 COVID-19 & ICT
We were deeply worried with the lockdown, COVID-19 and our vulnerable children with Type 1 diabetes all through the State. We are extremely pleased to announce that till date, all children have been doing well (praying God that they continue to do so) with no disruption in the supplies of insulins, consumables and support. Children and their families have been extremely smart in coping with the lockdown, we are thankful to our Idhayangal Trust team for working extremely hard to ensure that no single child from the trust was affected because of lack of vital supplies of insulins or consumables. We are talking about children as far as Mayiladuthurai, Trichy, Tiruvannamalai & Tirunelveli to name a few places. With a welloiled team, we have prevented major hospital admissions, liaised with local doctors during emergencies and kept all supplies going in the face of a very tight economic crunch. We hope an easing of current situation will make us breathe easier but it has been a great learning experience for all of us to cope with major difficulties and have come out stronger for our cause.
Star Health Insurance for 100 children, Our dream
Idhayangal Charitable Trust is keen to expand the children under Insurance cover. We have saved around 15 children this year because of this insurance cover. Vanisha, a 13-year-old poor girl with Type 1 diabetes, unfortunately ended up with a major accident and needed major reconstructive surgery for a tibial crush injury. Thanks for our health insurance cover, she made a fantastic recovery operated by the best of the surgeons and back to normal now. This is one of the fifteen success stories for this year. We are extremely grateful for all our contributors for helping cover the insurance for 50 children for the year ending April 2020. We are due for renewal and are keen to extend this programme to 100 children at a cost of Rs 8000/ child premium for a 2-lac cover for a year. This is a steep ask considering the current economic situation. In a nutshell, we need Rs 8 lacs to cover 100 children for a year for a 2-lac premium. Kindly consider helping as much as possible to help us realise our dreams of ensuring that no poor child suffers or dies for want of funds to support the best treatment in the best set up in case of a major emergency.
Right to live, A Big thank you
A chance opportunity linked us up with Shri Kote, Sridhar & Veeresh from an organisation called the Right to live based in Bangalore (https://www.righttolive.org/). Right to live is India first crowd-donation platform with a vision of Joining hands to change lives. It was a humbling experience interacting with all the three members of this fund-raising group. The target was set at Rs 2 lacs when all hell broke loose with COVID-19. Though no one would blame us for being sceptical, we pulled ahead with great optimism and now have raised Rs 2 lacs and sixty-eight thousand rupees worldwide in the most difficult circumstances. The great news is that every single rupee collected by Right to live will be transferred to Idhayangal Charitable Trust with no strings attached. Thanks is an extremely small word for people like Kote, Sridhar and Veeresh. This single crowd funding has changed the lives of at least 25 children for the next year
Idhayangal Trust, CSR Approved now, kindly connect
We have now successfully completed 3 years of service with a great track record of helping disadvantaged children with Type 1 diabetes. We are now 12 A, 80 G and CSR approved. Kindly pass this message on to companies with CSR remit so that we can continue supporting and expanding our work. We have a huge number of children to support from Salem, Madurai, Theni, Bathlagundu, Thoothukudi, Nagercoil as well as teaming up with colleagues in Kerala, Karnataka, Mumbai, Kolkatta, Punjab to expand our work pan-India. CSR funding is the need of the hour, our promise to ensure that every single rupee counts. We are happy to visit any CSR eligible organisation once this lockdown ends for a presentation. Kindly connect On behalf of all our trustees, we thank you all for your continuing faith and support. Keep safe during this difficult time. There is every reason for optimism for the future.
JAN-FEB 2020 Idhayangal NEWSLETTER
Dear Well-wisher/ Contributor,
Warm Regards from the desk of Idhayangal Charitable Trust. Due to your unrelenting support, we are now supporting close to 200 children from underprivileged backgrounds with Type 1 diabetes. We see a huge reduction in complications and admissions, more importantly we see happier children and families due to the support from all of you through the trust. We are genuinely humbled by the all-round support to take our work forward. In this issue, we have the following updates 1. Health Insurance for our children: PROJECT TRANQUILITY
2. Idhayangal Wings: Our work in Madurai districts
3. PROJECT COOL INSULIN
4. INVITE FOR ANNUAL DAY ON 26TH APRIL 2020
PROJECT TRANQUILITY
One of our flagship programmes is to ensure peace of mind to families of children with Type 1 diabetes, so that any unexpected hospital admission is covered by insurance. Currently, we are covering 50 children from poor families with a 2-lac cover for any hospital admissions, related or unrelated to diabetes. We have saved around 10 lives this year alone due to this programme and we wish to extend this help to 50 more families this year. The insurance scheme ends in April. We request our well-wishers to consider supporting this great initiative by contributing Rs 8000/ child for an annum. This would help children like Pavithra (photo below with her mom), unfortunately this poor little girl's dad took his own life within a week of this child's diagnosis of Type 1 diabetes. The mother has to support this child who has extremely brittle diabetes, one hospital admission can break this family's already beleaguered finances. Pavithra, one of our two- and half-year-old sweetheart who has had a tough start to life Rs 8000 thaanam (donation) gives peace of mind for an annum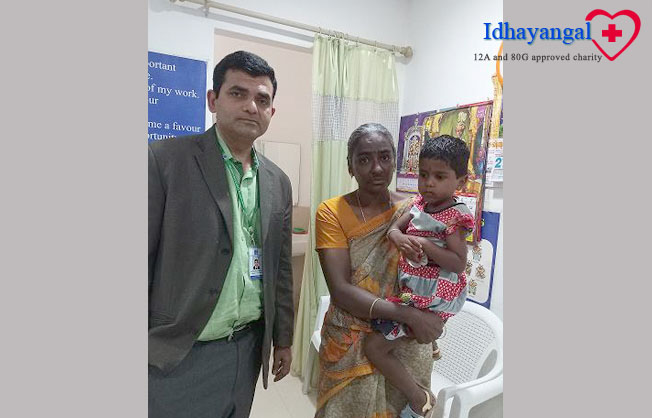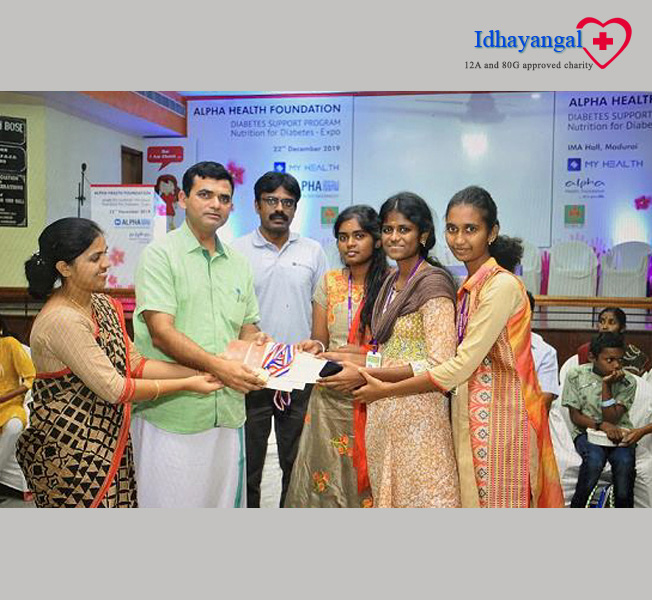 Idhayangal WINGS: OUR WORK IN MADURAI AND SALEM DISTRICTS
Our dream is to be the best pan-India Charity for poor children with Type 1 diabetes. Therefore, we have slowly started to look outwards to extend a helping hand to colleagues and families outside of our own areas. We have linked with Alpha foundation, Madurai led by Dr Kumaravel & Dr Aruna Chelliah and Dr Theivendran from Sakthi Foundation, Bathlagundu. Both the teams are extremely passionate about improving lives of children with Type 1 diabetes from poor families. Both teams have a huge number of children with Type 1 diabetes from poor socioeconomic strata. We have supported 6 insulin pumps to Alpha foundation, one to Sakthi foundation along with 20 fridges and the best insulins for the Bathlagundu children. It was rewarding to be a part of the get together organised in these areas and helping deserving children. We wish to profusely thank all of you who have made this possible. We are also extending our help to children from Salem Districts by teaming up with like-minded doctors in this area. There is a huge burden pf Type 1 diabetes in Salem, we have already started 3 insulin pumps for deserving children as well as supporting 40 fridges for insulin storage in this district. More details will follow.
PROJECT COOL INSULIN
A lot of our admissions with diabetic coma are due to the fact that there was no fridge at home to store insulins properly! This makes insulin lose its potency and even though children take their insulins regularly, it does not work as it has lost all its potency. It is painful to know that Glucoses of 600 mgs/dl with severe acidosis, coma and near death is due to want of 6000-rupee fridge at home. Therefore, Idhayangal has started this programme of PROJECT COOL INSULIN to ensure that all homes of children with type 1 diabetes should have a fridge. To this end, we have supplied more than 100 fridges that has been life changing for our children. Insulin requirements have come down drastically from hundreds of units and hospital admissions have reduced dramatically as well. We are also in close touch with R&D groups to see whether we can make a small portable fridge that is cost effective and can be placed easily in rural homes. Below is the photo of Sakthi, 17 years old, his diabetes control was extremely poor with a three-month average of 15 % (A1c should be less than 7), meaning his glucoses for last 3 months was around 500 mgs/dl. He is a poor labourer earning Rs 3000/ month. This is a one-way ticket to dialysis and kidney failure in the next 3 years, all because there was no fridge at home and he was storing insulins in a tumbler of water! Since we supplied the fridge and gave him the best insulins, his glucoses are all below 200 mgs/dl and he is leading a happier healthier life. We are in need of great support from all of you for this PROJECT COOL INSULIN programme.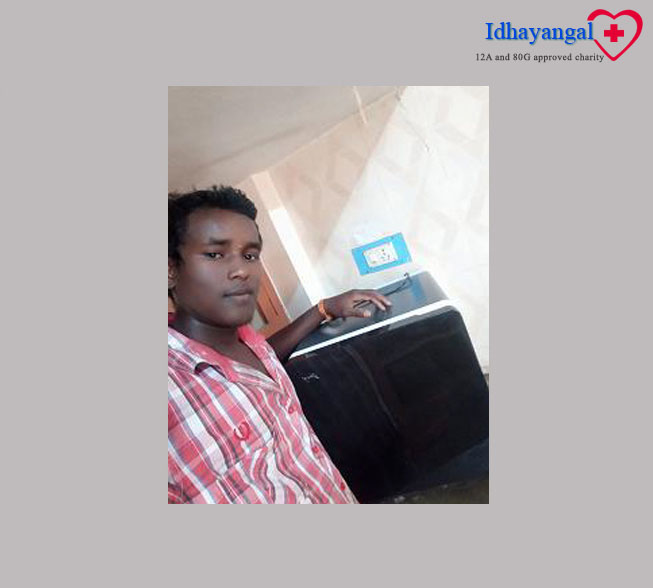 Idhayangal CHARITABLE TRUST ANNUAL DAY
Kindly block your dates on 26th April 2020 Sunday for our Annual day. It is a day for the donors rather than beneficiaries. It is a day for us to thank all of you along with our children and their families for all your support last year. Details of programme will follow shortly, we aim to get some social responsibility in our children's minds by planting trees that grow with them followed by a 2-hour programme at Sitra auditorium opposite airport signal, Coimbatore
THANKS IS A SAMLL WORD FOR ALL YOUR SUPPORT
On behalf of Idhayangal Charitable Trust
Dr. Krishnan Swaminathan
Ph: 8526421150 or 9042858882
Donate to Idhayangal Charitable Trust
Cheque in favour of Idhayangal CHARITABLE TRUST
mail: snehasswaminathan@gmail.com
Kindly send cheque in favour of Idhayangal Charitable Trust and post to