Our Services
Idhayangal charitable trust was initially founded by a group of Indian doctors working in the UK in 2004. The aim of this organization was to give a helping hand to poor people, especially children in need of medical aid, in India. The four founding trustees were Dr.Krishnan Swaminathan, Dr.Suresh Mathavakannan, Dr.Sabapathy Prakash and Dr.Nambi, all of whom were working as Consultants in the UK.
More than 950 underprivileged children with Type 1 diabetes supported with best insulins, consumables, glucometers, insulin pumps, health insurance, education and rehabilitation over last 5 years
Best insulin analogues in penfill cartridges for all children
More than 200 insulin pumps deployed for deserving indicated underprivileged children across the nation
2 crores worth of health insurance cover for all deserving children, premiums paid by the trust
Free glucometers, best in class, with glucose strips and insulin needles supported
Educational grant, especially for STEM education to all deserving children, particularly girls with Type 1 diabetes
Active research into Type 1 diabetes with demographic, clinical, genomic and environmental markers
Project Shakthi to rehabilitate mothers of children with Type 1 diabetes for gainful employment towards an exit strategy

Ramya comes from a very poor family near Madukkarai on the outskirts of Coimbatore. She has Type 1 diabetes for the past 4 years and has had major life-threatening admissions with diabetic coma at Coimbatore GH, the last one on 5th Feb 2021 which nearly ended her life. Both parents are labourers, a small thatched roof house, no electricity, no fridges, no glucometers, insulins in vials & syringes and poor insight into diabetes. What more can stack up against this poor child. However, this girl had a few strengths, a steely resolve and character, an inherent smartness, a superb grandmother who adored her grand-daughter and Idhayangal Team's input. Once we came to know of this girl, we wanted to do everything to level the playing field. A village visit, a small fridge to store insulins at a nearby shop (we believe the potency of insulin was a factor for the recurrent admissions due to storage issues), best insulins in penfill cartridges, diabetes education for her and the entire village, a brand-new best glucometer, unrestricted glucose testing strips and positivity has completely transformed this child within 2 weeks. Her glucoses which were 500 mgs/dl is settling down to 200 mgs/dl, gained weight and feeling much happier. Early days yet we are quietly confident that Ramya should do well and lead a happy healthy life. Thanks to all the donors and well-wishers for making this start possible to realise our core dream that we are not going to allow a single poor child suffer for want of best treatment that would change their lives positively.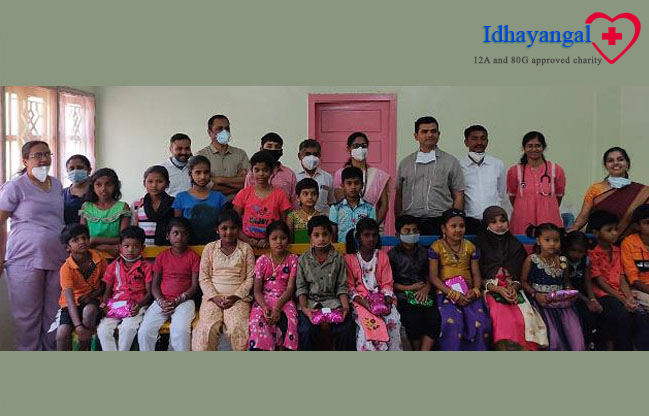 Idhayangal Charitable Trust has been lucky to have been given the opportunity to help about 36 children with Type 1 diabetes from underprivileged families. Nearly all children have poor glucose control with all the paraphernalia that goes with such families, rank poverty, huge stress of multiple daily injections, no fridges, no glucometers, recurrent major hospital admissions with glucoses> 500 mgs/dl and a stoic acceptance of fate that their child will die at some point of time and there is nothing that can be done about this. ICT wanted to change this completely to all these deserving children. For some unexplained reasons, we find such underprivileged children very smart, bright, quickly understand the nature of Type 1 diabetes once time is spent on education, very well versed with technology and a desire to get better. It was a humbling moment to see all the children together as well as individually to identify core issues that needed to be corrected. We wish to thank the Paediatric department of Coimbatore GH, Dean of CMCH and all the post-graduates who gave us the opportunity to be of help. Within a day, all the households received fridges, all children received the best insulins in pen fill cartridges, glucometers, glucose strips and diabetes education. All children are doing well with reduction in glucoses at baseline of nearly 400 mgs/dl to around 200 mgs/dl within 3 weeks. If consistent, this would translate into major reductions in hospital admissions, kidney failure, blindness and death.
Photograph with all deserving children, Paediatric Team at Coimbatore GH, Roots India Chairman Shri Ramasamy, a major donor and well-wisher for this project. Photo below shows child receiving insulin pens, Dr Indira representing Wintac Limited and Dr Veerappan Subramaniam from USA, another major donor for this project. Group education for all the children and their families to help understand T1 diabetes better, rapt attention by all children and families.
We wish to thank all the stake holders, especially Roots India Chairman Shri Ramasamy and their team, Dr Veerappan Subramaniam (USA), Dr Dhurairaj (USA), Wintac Team, Dr Indira, Drs Thiyagarajamoorthy, Prabhu Niranjan, Shri Prasad Veluchamy (USA), Shri Ramesh, Shri Shanmughasundaram and many more who have been so selfless in funding this project.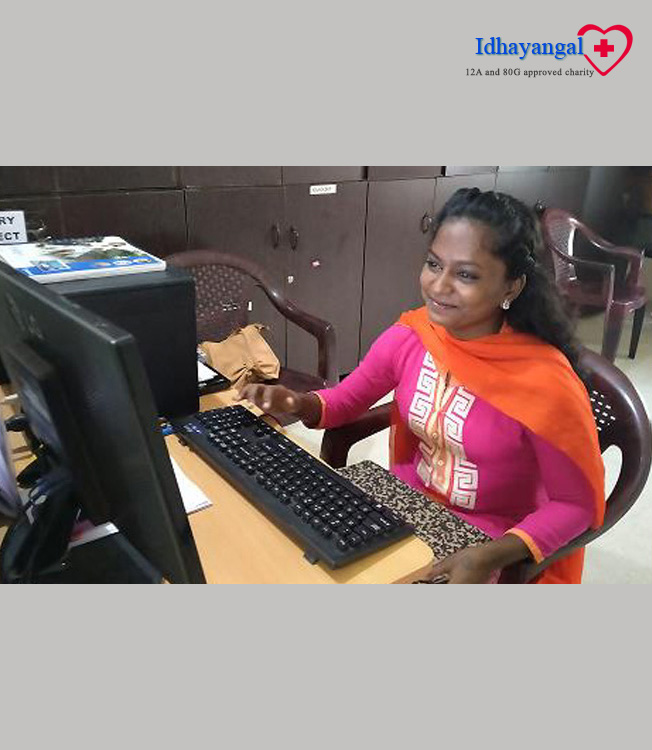 To come from a very difficult socio-economic background and in addition having difficult to control Type 1 diabetes, a dad who had lost his arm and works as a part-time security for Rs 7000 per month, two siblings younger to her is a testament to the tenacity of Jeevitha (photo above). When I first saw Jeevitha four years ago, she was needing about 60 units / day of insulins, very poor diabetes control on multiple injections per day and struggling to cope financially with the burden of diabetes and insulins. Her 3-month average was 10% indicating a high risk of kidney failure in the next few years if uncontrolled. Since then she has been a beneficiary of all your generosity and goodwill. She is now on an insulin pump, doing exceedingly well, her last 3-month average is 6.4% which means very low likelihood of kidney failure and a normal healthy life. She has also finished her B Com for which she had complete funding support courtesy of yourselves and the Trust for the last years. She dreams to finish her CA part-time and we have promised support to do whatever she wants in education. She has been offered placement at Idhayangal Charitable Trust as a Junior Accounts Manager with a payment that will help her family. Jeevitha's story is extremely heart-warming as it shows what our children can achieve given the right kind of support. Our dream is to ensure that all our deserving children grow with the right mind-set, take care of their diabetes properly and lead healthy productive lives not only for themselves and their families but to our society as well. Thanks to all of you for making this happen.
Dear Well-wisher/ Contributor,
Warm Regards, hope all of you and your families are staying safe during these most difficult times. It has been a huge challenge for all of us here at Idhayangal Trust as well to ensure that not a single poor child is left behind during these times. A lot of poor families are struggling even for basic amenities and the support that all of you are providing at these times is a Godsend. On behalf of all our children, we thank you profusely for your continuous support and contributions.
In this edition of ICT Newsletters, we are happy to share some of the mind-boggling support from great humanitarians. We don't need to go to temples to see Gods. They are in the form of donors and supporters like all of you. Here are the updates
PROJECT ICT/ TEXBIOSCIENCES
PROJECT SANTHI (PEACE OF MIND)
PROJECT VANAVIL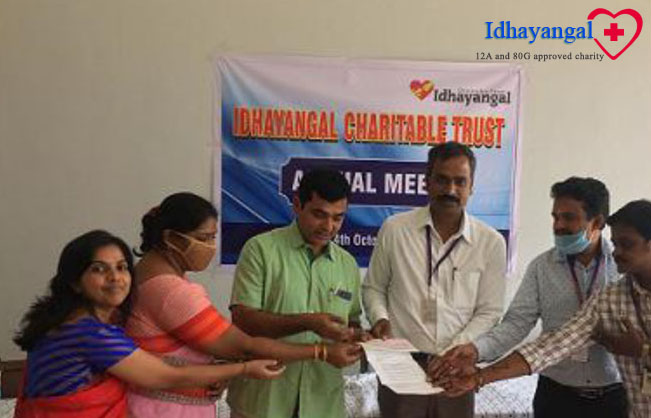 No one can be faulted for not wanting to open up their CSR funding when losses are mounting everywhere. However, Kumbakonam City Union Bank chose to do otherwise. The CSR team not only opened their purses to help our deserving children through their CSR grant but they also opened their hearts to support our cause. I still remember a sunny afternoon at Kumbakonam meeting with the CUB team requesting support for Idhayangal. What struck me was the simplicity and the faith that all the executives had at CUB including MD Shri Kamakodi, Senior GM Shri Ramesh and Shri Balasubramanian. Immense thanks to Shri Kumar Jayaraman for facilitating the meet. However, corona struck and times were difficult. The CUB team did not waver from their word and once the CSR discussions opened up, a 10-lac grant was sanctioned for Idhayangal Charitable Trust. Thanks is such a small word for their generosity. The DD was given at a simple function recently with their team from Coimbatore region. (Photo above). On behalf of all our deserving children, we wish to thank profusely CUB and their team for helping our children during this time of need.
Our current flagship Project Vanavil is off to a good start. Adopting one poor child with Type 1 diabetes for Rs 3000 per month or 36 K per annum is life changing for the child and their families. This will help us to move onto new children who are on the waitlist, there are hundreds of children on our waitlist throughout the State. We are extremely grateful to all donors who are a part of this project along with Rotary Club of Coimbatore Gaalaxy who have adopted this program as a flagship cause. Please pass this leaflet below to all your contacts, friends, families, suppliers or business groups. Donors can also start with how much ever they wish; no amount is small. For example, we have 6 donors contributing Rs 500 each that would help one child. Each child will be assigned to the donor and updates on progress will be sent once every 3 months.
We wish to thank all of you for your compassion, generosity and kindness. Kindly stay safe during these difficult times. On behalf of all our children, we wish you and your family health, wealth and peace.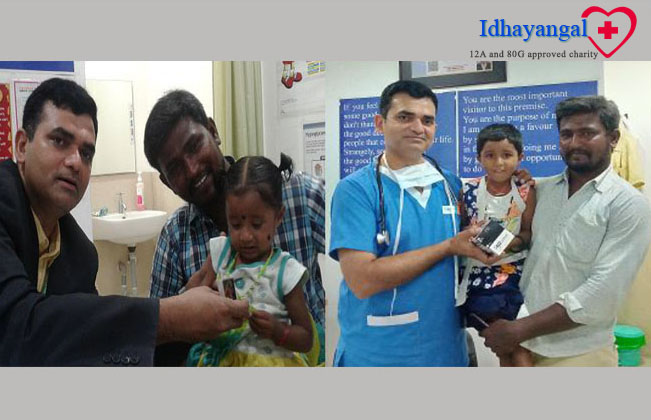 Raghavarthini (photo below) was brought to emergency a couple of years ago, only one and half years of age, declared dead at a different hospital with severe diabetic coma. Infact she was in peri-cardiac arrest and after a huge battle in our ICU, this child survived after fighting the toughest time of her life. Dad is a labourer near Salem and was unable to support insulin treatment as this child needs the best insulins to lead a healthy life. Since the first photo after the ICU admission (on the left), Idhayangal supported her insulins and consumables through all your generous support and it is so heart warming to see this child grow in front of our eyes. The photo on the right was taken last week in the clinic. Raghavarthini is such a playful innocent child and their dad conveys his deepest gratefulness for all our donors for their generous support.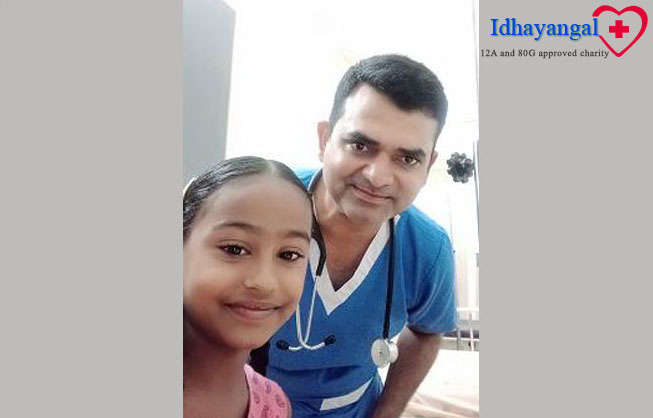 Sometimes, people wonder why we (our Idhayangal Trust team) are doing this work day and night to support children like Samar from Mettur. Samar has Type 1 diabetes, comes from a low socioeconomic background and heavily supported by Idhayangal. This beautiful girl was recently admitted with severe vomiting and high glucoses. On the day of discharge, this little girl hesitantly asked me, "Doctor Uncle, can I ask you a favour?". Happily asking her to blurt out the "big favour", this girl smilingly asked, "Doctor, can I take a selfie with you so that I can see this photo at home whenever I feel like it". If there was an answer as to why our team are working relentlessly 24/7, the answer was in Samar's "big favour". This photo below is so endearing, just to see the happy face of children like Samar makes this job worth it. Samar's mother conveys her deepest gratitude to all Idhayangal donors for their generosity and consideration.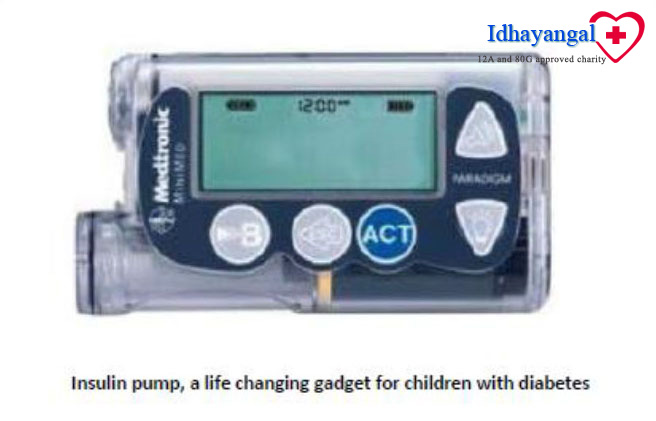 Insulin pumps are life-changing gadgets that are even beyond the dreams of poor children with Type 1 diabetes. Idhayangal Charitable Trust runs India's largest insulin pump programme for the rural underprivileged. The cost of insulin pumps are around 1.5-2 lacs and we are working closely with Medtronic India, the sole supplier of Insulin pumps in India currently to reduce costs. Through a unique scheme, we are able to support insulin pumps for the underprivileged children if a donor supports 50 K for one pump. This is a huge reduction in costs and we have shown that insulin pump therapy without prejudice in rural underprivileged children reduces hospital admissions, kidney failure and deaths. So, if there are any individuals or philanthropic organisations who are interested in supporting this programme, kindly mail me on snehasswaminathan@gmail.com or call me anytime at 8526421150 or 9042858882 (WhatsApp)
Adopting one child for the best insulins and consumables cost Rs 36,000 per annum. This is life changing for the child and their families and we have around 125 children needing this support now. This can be sponsored either as Rs 3000 per month by direct debit or Rs 36 K per annum as an one-off contribution. Regular updates every 3 months will be given by the children or their families. We now have 8 children being adopted by like-minded donors, please get in touch if interested in sponsoring one child for a year.
We wish to thank you all profusely from the bottom of our hearts for the graciousness and generosity even during the most difficult times. Keep safe and stay healthy.
Warmest Regards
Dr Krishnan Swaminathan
On behalf of all trustees, team and children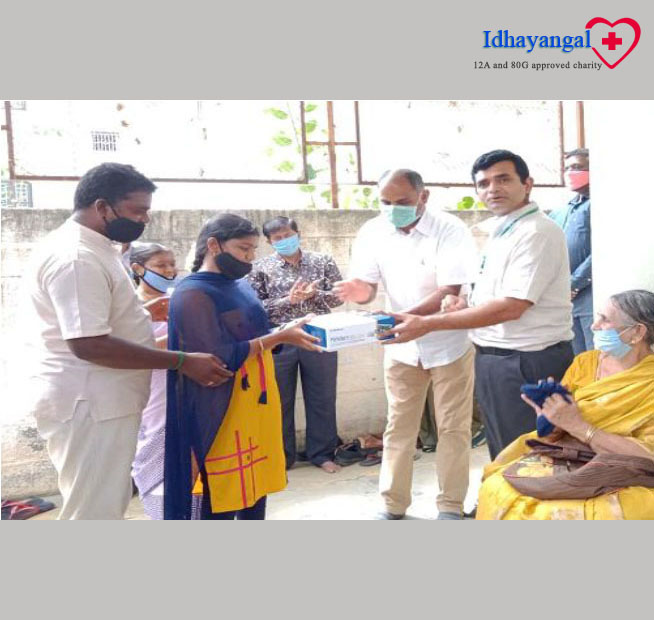 It was such a privilege to meet Shri RP Krishnamachari (Texbiosciences and Single Teacher Schools). They are already doing immense work in the field of education and health throughout our State. A chance meeting in Chennai turned out to be a Godsend for our deserving children through a huge contribution for the Trust under the most difficult of the times. Some of the beneficiaries from this project are below
A 16-year girl, poor background, who was transferred to our hospital in a severe diabetic coma and severe blood borne infection. She was given up in a different hospital and was in near cardiac arrest when she came in. Type 1 diabetes for the last 4 years with a 3-month average of 15 % and glucoses 600 mgs/dl (should be 7% in this age). It was battle to save this child and currently doing extremely well on insulins. She had a trial of insulin pump and over the last one month, all her glucose numbers are within the 180 mgs/dl mark. She has received the insulin pump courtesy of Texbiosciences support. For the first time, she feels what it is to be normal.
A 12-year-old boy, son of a bus driver, very poor socioeconomic background, with glucoses 600 mgs/dl on admission. Family struggling a lot to fund insulins. Very erratic glucoses and high risk of kidney failure in 5 years. He was one another candidate for the insulin pump, doing extremely well on the trial pump for the past 4 weeks, all glucoses now 200 mgs/dl. Saravana Balaji receiving the insulin pump due to the generosity of Texbiosciences contribution
In addition, ten children received the best insulins for the first 3 months, courtesy of this project Each month insulins costs approx. Rs 3000. All the children come from very poor families, with a mean income of Rs 10,000 per month. My dad is in this photo, a senior doctor himself, blessing all the beneficiaries on behalf of all contributors.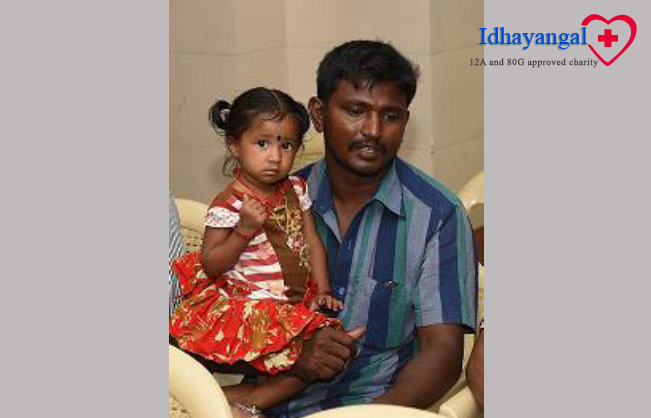 One admission with a severe diabetic coma costs a poor family 1.5 lacs and the possibility of death, especially in a poorly equipped hospital. With Type 1 diabetes from a poor background, the sword of a major hospital admission is always there and we believe that a health insurance back up is vital to give a great peace of mind during emergencies. A lot of families are still paying the interest of a hospital admission five years ago! We have to profusely thank Star Health Medical Director and their team to extend this unique programme in India through Idhayangal Charitable Trust, that waives off all pre-existing conditions with a huge discount in the premium that is supported by ICT. Many lives have been saved through this flagship programme.
This year, we have been immensely privileged in getting huge support from a great philanthropist who was so generous in supporting this Insurance programme in a big way that helped us to cover more than 60 children with a 2-lac insurance cover for any diabetic or nondiabetic emergencies. Some of the details of beneficiaries are below to get a flavour.
This little fighter was admitted with glucoses > 600 mgs/dl and was actually given up in a state hospital. Dad is a labourer earning Rs 6000 per month, cost of a major ICU admission in a good hospital to save this child's life was Rs 1.5 lacs. Thankfully, Raghavarthini is covered under this Health Insurance scheme and her life was saved after transfer to our set up. She is now doing extremely well on four times a day insulin. The family comes from Salem, at least now they have a peace of mind that they can get admitted to a good hospital (God forbid not) in case of any emergency without having to worry about the finances.
This poor girl from Tirupur had 6 admissions with glucoses > 600 mgs/dl and was on 150 units of insulin per day. Dad is a labourer from Tirupur. They were totally broke and finally came to us. Actually, the main reason for the poor diabetes control was a lack of a 5000-rupee fridge at home, the insulins had lost potency and the doctor did not realise this. Idhayangal supported a fridge and best insulins to her and she is now doing extremely well. She is one of the beneficiaries of this programme. She is so interested in Tamil literature and writes poems in Tamil and recently was awarded Dr Abdul Kalam's prize in her school for the best Tamil poem.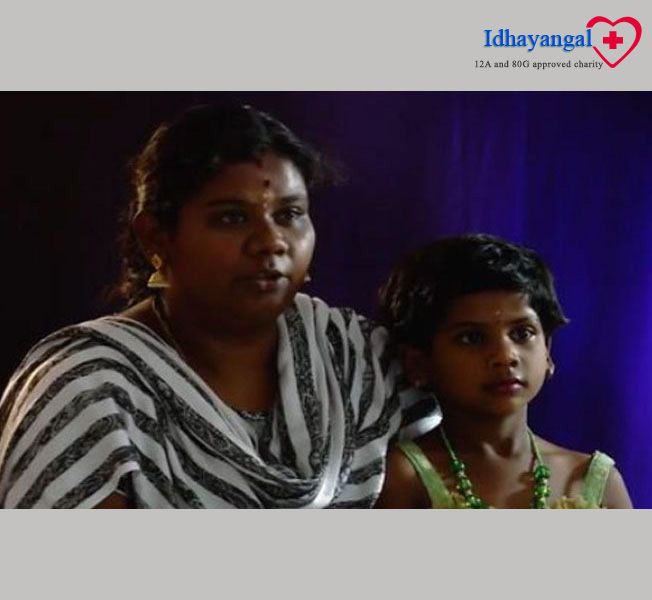 Just 7 years of age with Type 1 diabetes for the past 3 years, kaniga coming from a poor socioeconomic stratum, has extremely brittle diabetes. One episode of vomiting will lead to a major admission with diabetic coma. Last year alone, she had seven admissions and thankfully her health insurance covered all her admissions as we were able to prevent ICU admissions by bringing her in early than later. Her parents are deeply grateful for all your support and wishes to convey their heartfelt thanks to all the donors.
These are just the snapshots of the 65 stories of every deserving child that been covered by the insurance. The total cover is Rs 1.3 crores for 65 children for a year.
We profusely thank all contributors and philanthropists who have raised funds for this insurance programme that gives absolute peace of mind to all the families.
Immense thanks to the Rotary Club of Metropolis, our mentor Shri V.S. Srinivasan, President Shri Vittel for donating Rs 5 lacs under the most difficult circumstances to help our deserving children. Project Vanavil is the apt name for this great project which has given hope to 32 children from the poor socio-economic category. 2 children have benefitted from Insulin pumps, Srividya from Tirupur who has a worrying combination of seizures and Type 1 diabetes and Kaniga, who has had around 15 admissions with brittle diabetes coma and a deserving candidate for insulin pump therapy. Photos will be updated next issue. We salute Rotary Club of Metropolis for their immense generosity during these times, considering the amount of funding required for their own flagship projects which are life changing for a lot of fire victims in and around Coimbatore.
We also take this opportunity to thank a lot of individual donors who have kept us going. They are all our unsung heroes. We are greatly indebted to every one of you Wishing you all the best of health, wealth and peace and warmest Regards
Dear Contributor/ Well-wisher
Warm Regards from the desk of Idhayangal Charitable Trust. Hope you are all keeping safe. It has been an extremely tough 2 months on account of COVID-19 for Idhayangal Trust as well with plenty of contributions/ donations on hold or diverted due to this emergency. We wish to thank all of you for your continued support in spite of the difficult circumstances. Here are the following updates
Out of sight, always in mind
COVID-19 & ICT
Star Health Insurance for 100 children, our dream
Right to live, a big thank you
ICT, CSR Approved now, please connect us
Out of sight but always in mind
There is a saying "Out of sight, out of mind", however for Idhayangal Trust, we see the reverse "Out of sight, always in mind". We are deeply grateful and absolutely humbled by our friends in Birmingham, UK led by Shri Muthu, Mrs Easwari and the AORTAN Tamil Association of Birmingham. Though out of sight from India, they have always kept our children in mind. This team had raised approx. Rs 60,000 for Idhayangal Charitable Trust for their Pongal celebrations, we have absolutely no words to thank them for their efforts in spite of their busy schedule. To add to this generosity, Dr Krishnaveni, Dr Sudharshan & Dr Chitra from Solihull & Stoke on Trent, UK had raised Rs 40,000 to Idhayangal through charity fundraising by selling food. The icing on the cake is Master Rithvik's generosity. Hardly ten years of age, residing in the UK, Rithvik decided not to take any gifts for his 10th birthday, instead requested his friends to donate to Idhayangal. He had raised 320 British pounds (approx. Rs 30,000) from his friends to help our deserving children. I wish I had one billionth of his thoughts at his age. On behalf of all our children, trustees and well-wishers, we wish the AORTAN Team, Drs Krishnaveni, Sudharsan, Chitra, Muthu, Easwari, Rohita and Rithvik all the very best. A big salute to all of you, "Out of sight but always in mind"
A big thanks to AORTAN Team from Birmingham, Patriotism is not defined by where one lives but what one does for the underprivileged back home from anywhere in the world!
We were deeply worried with the lockdown, COVID-19 and our vulnerable children with Type 1 diabetes all through the State. We are extremely pleased to announce that till date, all children have been doing well (praying God that they continue to do so) with no disruption in the supplies of insulins, consumables and support. Children and their families have been extremely smart in coping with the lockdown, we are thankful to our Idhayangal Trust team for working extremely hard to ensure that no single child from the trust was affected because of lack of vital supplies of insulins or consumables. We are talking about children as far as Mayiladuthurai, Trichy, Tiruvannamalai & Tirunelveli to name a few places. With a welloiled team, we have prevented major hospital admissions, liaised with local doctors during emergencies and kept all supplies going in the face of a very tight economic crunch. We hope an easing of current situation will make us breathe easier but it has been a great learning experience for all of us to cope with major difficulties and have come out stronger for our cause.
Idhayangal Charitable Trust is keen to expand the children under Insurance cover. We have saved around 15 children this year because of this insurance cover. Vanisha, a 13-year-old poor girl with Type 1 diabetes, unfortunately ended up with a major accident and needed major reconstructive surgery for a tibial crush injury. Thanks for our health insurance cover, she made a fantastic recovery operated by the best of the surgeons and back to normal now. This is one of the fifteen success stories for this year. We are extremely grateful for all our contributors for helping cover the insurance for 50 children for the year ending April 2020. We are due for renewal and are keen to extend this programme to 100 children at a cost of Rs 8000/ child premium for a 2-lac cover for a year. This is a steep ask considering the current economic situation. In a nutshell, we need Rs 8 lacs to cover 100 children for a year for a 2-lac premium. Kindly consider helping as much as possible to help us realise our dreams of ensuring that no poor child suffers or dies for want of funds to support the best treatment in the best set up in case of a major emergency.
A chance opportunity linked us up with Shri Kote, Sridhar & Veeresh from an organisation called the "Right to live" based in Bangalore (https://www.righttolive.org/). Right to live is India first crowd-donation platform with a vision of "Joining hands to change lives". It was a humbling experience interacting with all the three members of this fund-raising group. The target was set at Rs 2 lacs when all hell broke loose with COVID-19. Though no one would blame us for being sceptical, we pulled ahead with great optimism and now have raised Rs 2 lacs and sixty-eight thousand rupees worldwide in the most difficult circumstances. The great news is that every single rupee collected by Right to live will be transferred to Idhayangal Charitable Trust with no strings attached. Thanks is an extremely small word for people like Kote, Sridhar and Veeresh. This single crowd funding has changed the lives of at least 25 children for the next year
We have now successfully completed 3 years of service with a great track record of helping disadvantaged children with Type 1 diabetes. We are now 12 A, 80 G and CSR approved. Kindly pass this message on to companies with CSR remit so that we can continue supporting and expanding our work. We have a huge number of children to support from Salem, Madurai, Theni, Bathlagundu, Thoothukudi, Nagercoil as well as teaming up with colleagues in Kerala, Karnataka, Mumbai, Kolkatta, Punjab to expand our work pan-India. CSR funding is the need of the hour, our promise to ensure that every single rupee counts. We are happy to visit any CSR eligible organisation once this lockdown ends for a presentation. Kindly connect
On behalf of all our trustees, we thank you all for your continuing faith and support. Keep safe during this difficult time. There is every reason for optimism for the future.
Dear Well-wisher/ Contributor,
Warm Regards from the desk of Idhayangal Charitable Trust. Due to your unrelenting support, we are now supporting close to 200 children from underprivileged backgrounds with Type 1 diabetes. We see a huge reduction in complications and admissions, more importantly we see happier children and families due to the support from all of you through the trust. We are genuinely humbled by the all-round support to take our work forward. In this issue, we have the following updates
1. Health Insurance for our children: PROJECT TRANQUILITY
2. Idhayangal Wings: Our work in Madurai districts
3. PROJECT COOL INSULIN
4. INVITE FOR ANNUAL DAY ON 26th APRIL 2020
One of our flagship programmes is to ensure peace of mind to families of children with Type 1 diabetes, so that any unexpected hospital admission is covered by insurance. Currently, we are covering 50 children from poor families with a 2-lac cover for any hospital admissions, related or unrelated to diabetes. We have saved around 10 lives this year alone due to this programme and we wish to extend this help to 50 more families this year. The insurance scheme ends in April. We request our well-wishers to consider supporting this great initiative by contributing Rs 8000/ child for an annum. This would help children like Pavithra (photo below with her mom), unfortunately this poor little girl's dad took his own life within a week of this child's diagnosis of Type 1 diabetes. The mother has to support this child who has extremely brittle diabetes, one hospital admission can break this family's already beleaguered finances.
Our dream is to be the best pan-India Charity for poor children with Type 1 diabetes. Therefore, we have slowly started to look outwards to extend a helping hand to colleagues and families outside of our own areas. We have linked with Alpha foundation, Madurai led by Dr Kumaravel & Dr Aruna Chelliah and Dr Theivendran from Sakthi Foundation, Bathlagundu. Both the teams are extremely passionate about improving lives of children with Type 1 diabetes from poor families. Both teams have a huge number of children with Type 1 diabetes from poor socioeconomic strata.
We have supported 6 insulin pumps to Alpha foundation, one to Sakthi foundation along with 20 fridges and the best insulins for the Bathlagundu children. It was rewarding to be a part of the get together organised in these areas and helping deserving children. We wish to profusely thank all of you who have made this possible.
We are also extending our help to children from Salem Districts by teaming up with like-minded doctors in this area. There is a huge burden pf Type 1 diabetes in Salem, we have already started 3 insulin pumps for deserving children as well as supporting 40 fridges for insulin storage in this district. More details will follow.
A lot of our admissions with diabetic coma are due to the fact that there was no fridge at home to store insulins properly! This makes insulin lose its potency and even though children take their insulins regularly, it does not work as it has lost all its potency. It is painful to know that Glucoses of > 600 mgs/dl with severe acidosis, coma and near death is due to want of 6000-rupee fridge at home. Therefore, Idhayangal has started this programme of "PROJECT COOL INSULIN" to ensure that all homes of children with type 1 diabetes should have a fridge. To this end, we have supplied more than 100 fridges that has been life changing for our children. Insulin requirements have come down drastically from hundreds of units and hospital admissions have reduced dramatically as well. We are also in close touch with R&D groups to see whether we can make a small portable fridge that is cost effective and can be placed easily in rural homes.
Below is the photo of Sakthi, 17 years old, his diabetes control was extremely poor with a three-month average of 15% (A1c should be less than 7), meaning his glucoses for last 3 months was around 500 mgs/dl. He is a poor labourer earning Rs 3000/ month. This is a one-way ticket to dialysis and kidney failure in the next 3 years, all because there was no fridge at home and he was storing insulins in a tumbler of water! Since we supplied the fridge and gave him the best insulins, his glucoses are all below 200 mgs/dl and he is leading a happier healthier life. We are in need of great support from all of you for this "PROJECT COOL INSULIN" programme.
Kindly block your dates on 26th April 2020 Sunday for our Annual day. It is a day for the donors rather than beneficiaries. It is a day for us to thank all of you along with our children and their families for all your support last year. Details of programme will follow shortly, we aim to get some social responsibility in our children's minds by planting trees that grow with them followed by a 2-hour programme at Sitra auditorium opposite airport signal, Coimbatore
THANKS IS A SAMLL WORD FOR ALL YOUR SUPPORT
On behalf of Idhayangal Charitable Trust
Dr. Krishnan Swaminathan
Ph: 8526421150 or 9042858882
Dear Contributor/ Wellwisher,
Warm regards from the desk of Idhayangal Charitable Trust. We wish all of you and your family a great Diwali. We have made immense progress over the last 2 months. Our children's diabetes control has improved remarkably due to our team's efforts and your support. Data shows that the 3-month average of most children supported by the trust has come down from around 14-15 % to around 7%. This would translate into a huge reduction in kidney failures and blindness and allow them to lead a normal healthy life. In this newsletter, we have the following
1. Our Diwali celebrations
2. Breaking socio-economic barriers in Diabetes Technologies
3. The humbling story of Papammal and her pension
It was a heart-warming Diwali celebration with our Trust's children on 20th October. Idhayangal Team was peaceful to have in our midst families of patients who had unfortunately lost their lives last year. Manikandan's dad and his sister along with Satyapraksh's family joined our Diwali get together. It was a time to recollect memories, however painful it was, we were determined not to forget such families and ensure that they were a part of our Idhayangal's family. Each child had a beautiful dress and came to stage to speak confidently of their future plans. This was followed by songs, dances and firecrackers. Many thanks for all our Idhayangal contributors who have made it possible for these families to gain the confidence and do well in their lives. Photos below.
Idhayangal Charitable Trust is proud to attach, along with this mail, our recent paper which was accepted in the Indian Journal of Endocrinology and Metabolism. We have broken a glass ceiling by penetrating insulin pump technologies to the poorest of the poor. This pilot study on 16 children shows that underprivileged rural children can handle insulin pump technology that leads to excellent glucose control, reduction in hospitalisations, improved quality of life and hopefully reductions in kidney failures and blindness. Since this paper, we now have 52 underprivileged children on insulin pump therapy. Each pump costs around 1.5 lacs with consumables of around Rs 8000 per annum. This device is life changing for children on 4 times a day insulin. We wish to thank all our contributors and well wishers who made such things possible. We are confident that Idhayangal Charitable Trust has the maximum number of underprivileged unaffordable rural children on such lifesaving technology in the world. Many more children are on the waiting list, we sincerely request our contributors to help us with this programme (DONATE AN INSULIN PUMP, CHANGE A CHILD'S LIFE FOREVER). We are positive that this programme will change the landscape of underprivileged children with Type 1 diabetes children in our State. We are also actively lobbying the Government to adopt this scheme.
Papammal, a 70 yeal old lady, is a long standing patient of mine, she comes along with her husband all the time. She had not been to school; her whole world revolves around her husband and house. It's been sometime since I had seen her. She suddenly popped into my OP Clinic recently. After general niceties, she started to have tears rolling down her eyes, her husband had died last year and that's the reason for her non-attendance. "Doctor, I don't know what to do, my whole life was my husband, now I am at a complete loss, I just wanted to see you and cry, so that I can feel a bit better". As we were speaking, her eyes fixed on the photograph hanging on my room with our Idhayangal children. She enquired about it, took some Idhayangal leaflets from my desk and left. In the evening I had a phone call from her saying that she had transferred Rs 25,000 from her husband's pension amount for the children. For a lady who had not left her house, she had gone to the bank all by herself, pestered the bank staff to help her with the bank transfer and was calling anxiously from the bank to ensure that the money was transferred. What a humbling effort by this gem of a lady. Idhayangal Charitable Trust is in great hands and hearts with people like Papammal.
We wish to thank the office bearers and members of Rotary Club of Coimbatore Central, Kovaipudur and Rotary Club Galaxy for their support in recent times.
Wishing you all a happy Diwali, may God bless all of you with health, wealth and peace Dr. Krishnan Swaminathan, On behalf of all our children and Team
Dear Contributor/ Well-wisher,
It gives immense pleasure in sending us this update from our desk. It has been a fruitful 2 months for Idhayangal. Our Project Kathir has made a great start with 12 children from the underprivileged category able to get not only the insulin pumps but also consumables for three years, which gives them enough time to settle down. In addition, 25 children are supported with the best insulins through this programme. Thanks is a small word for Rotary Club of Coimbatore Central, KMCH and all our contributors for making this happen.
In this newsletter, we are sharing details of the advanced insulin pump refresher course for the kids, the story of Arjun's kiss, our insurance cover now reaching 50 children with type 1 diabetes and many more. Once again, thanks for your continued support to our causes.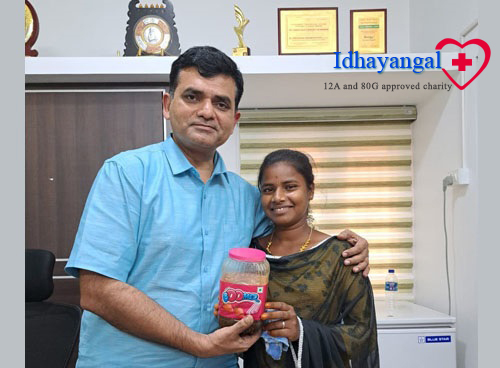 Anita type 1diabetes for 5 years, from remote hill village in interior Salem district, showing huge discipline on four times daily insulin, God given innocence and goodness, bringing one litre of pure mountain honey worth Rs 1500 inspite of their dire poverty, by pestering her dad along with beautiful drawing of Lord Ganesha as a present for Team Idhayangal, no amount of money is equal to the affection of this kid, Anita is idhayangal star of the month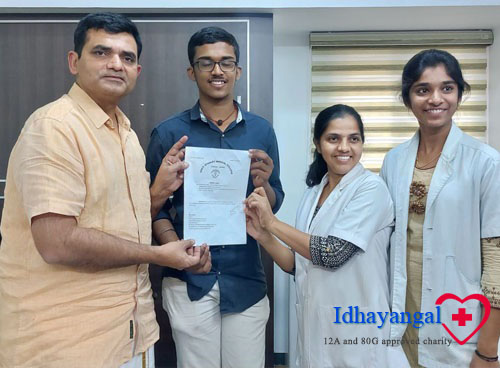 Ajay presented to idhayangal 5 years ago emaciated with glucose of 500, fought back with absolute determination, got insulin pump courtesy of idhayangal donors, scored 651 in NEET, proudly showing admission to Stanley Medical college, dreaming of joining idhayangal team in the future, Ajay is idhayangal star of the month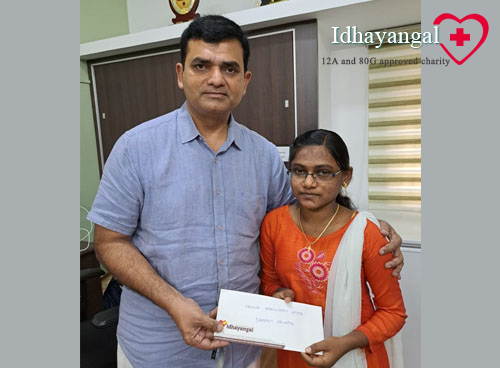 Manoja from interior Theni district, battling brittle type 1diabetes since 2 years of age, partially sighted due to diabetic retinopathy, early kidney impairment, showing huge fight and determination to complete her nursing course, now appointed as Diabetes Educator for Theni and Madurai districts, proudly receiving her appointment order from Idhayangal, Manoja is idhayangal star of the month for showing utmost discipline and determination in face of huge adversity, swami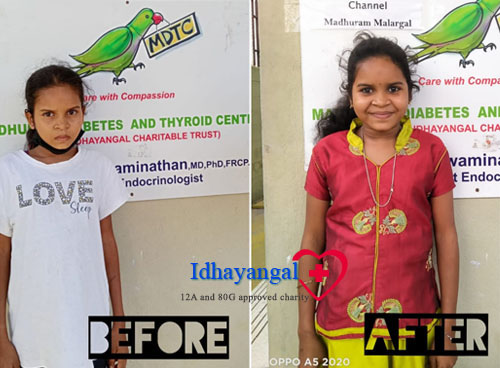 Keerthi, 4 years of type 1 diabetes,supported by Idhayangal, mother is vegetable seller on streets, dad bed bound by chronic illness, showing fierce determination battling poverty, diabetes, dad's Illness to secure admission to medicine thru NEET, conveying her wish to be Idhayangal doctor once she finishes, Keerthi is Idhayangal star of the month, thanks to all of you in helping us do the impossible possible
Anjali from deep interior Pollachi, shattered house due to rains, lost her dad, no electricity, presented with severe diabetic coma with A1c of 17.8 (glucoses more than 600), now completely transformed with all your support, house and electricity has been restored by Idhayangal well wishers in Pollachi, recent A1c 9 , gained weight and looking awesome on Idhayangal diwali dress, Anjali her mother and sister, our well wishers are Idhayangal stars of the month Swami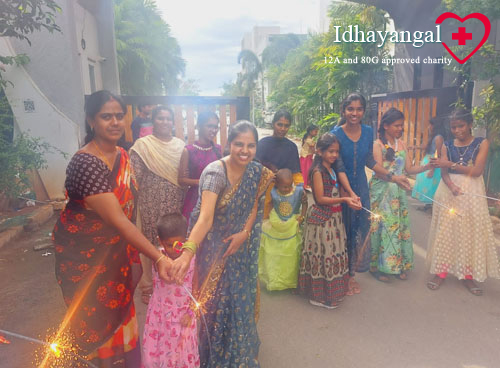 Team Idhayangal celebrated Deepavali with 10 children with type 1 diabetes with single mothers, it was a joy to see our children, siblings and their mothers having the time of their lives with brand new dresses, songs, crackers completely forgetting their worries, it'was an emotional moment when one mother came on stage to say that she is happy for her child to have type 1 diabetes because she now feels she has a family with Idhayangal, all our children mothers are Idhayangal stars of the month, happy deepavali to all of you from Team Idhayangal and all our children Swami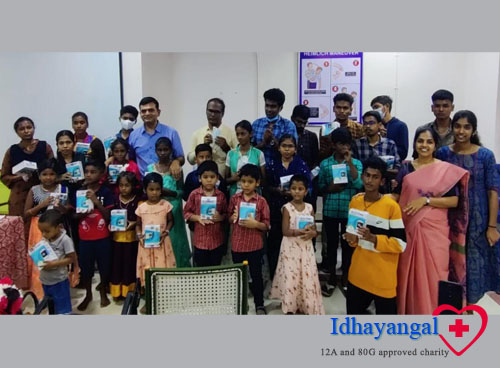 Idhayangals dream of ensuring no single poor child with type 1 diabetes from Kashmir to Kanyakumari should suffer for want of best treatment, received a huge boost by the God given opportunity of supporting close to 50 underprivileged children with type 1 diabetes across Tirunelveli and Kanyakumari districts, Team Idhayangal we so privileged to educate and support these children, their attitude inspite of great adversity was heart warming, Beema Akka Australia Joshua from tuticorin, Dr Arun Viswanathan, all partners from Tirunelveli and Kanyakumari medical college hospitals are Idhayangal stars of the month Swami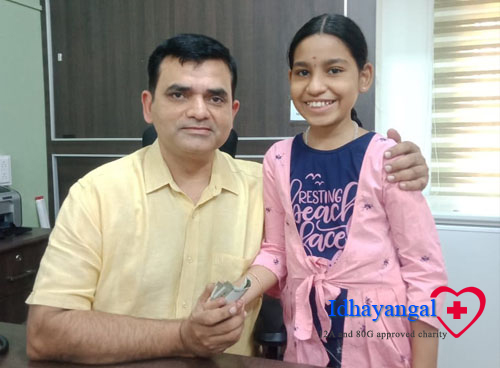 Harshini from Madurai, Type 1 diabetes for 5'years, single mother, very difficult finances, doing extremely well on insulin pump, Hba1c 6.6, showing enormous generosity by donating her Rs 500 gift for her bday by a relative to other deserving children from Idhayangal, such a heart warming moment to see selfless charity from a young child during adversity, Harshini is Idhayangal heroine of the month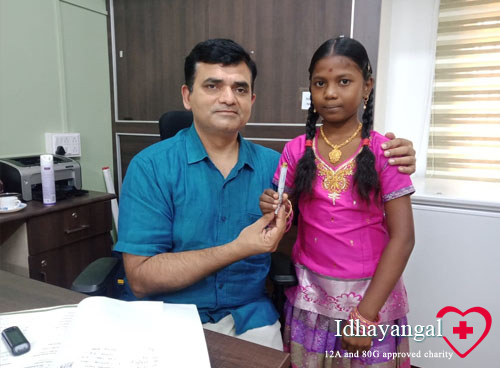 Madhushri from Conoor, battling brittle type 1 diabetes for 3 years, very poor family, dad is a labourer in market, such a talent to get district level prize at spelling competition, showing her enormous talent and receiving a Pro T-shirt from Idhayangal, please watch the 50 sec video, Madhushri is Idhayangal star of the month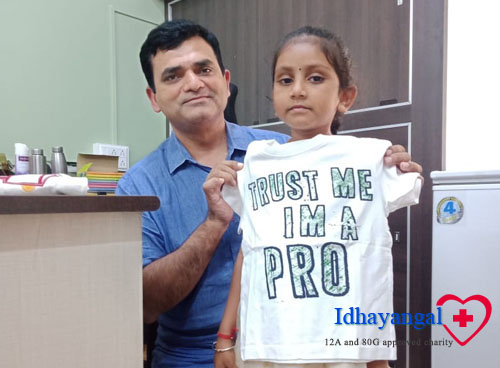 Dhanapriya from Cuddalore district, only daughter, dad labourer, fighting brittle type 1 diabetes for years, showing huge grit and determination, she would not touch a chocolate even on her birthday, doing extremely well through the insulin pump program thru Idhayangal, got her Hba1c levels from 13 to 7, presenting a valuable pen to Idhayangal team during her recent visit, for her sheer determination, discipline, kindness and gratitude, Kurinchipadi Dhanapriya is Idhayangal heroine of the month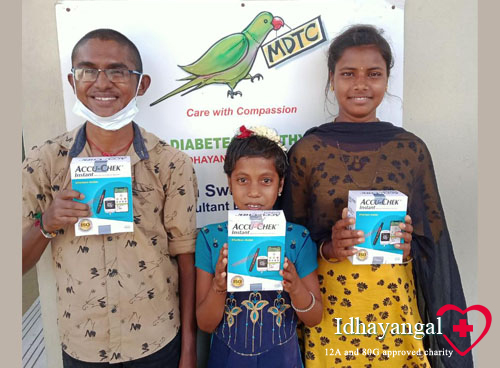 Sundar, type 1 diabetes, poverty and visually impaired due to optic atrophy with tunnel vision still finding his way from Tirupur without any support, Sreedevi from Kangeyam, illeterate parents poor labourers, glucoses more than 600 initially, Anita from a remote hill village in deep interior Athur where one has to walk 5 kms to get to the nearest bus stop, all showing huge grit determination, fight but most importantly happiness at whatever life throws at them, looking so contented with the long term glucometer and strips support, Sundar Sreedevi and Anitha are Idhayangal stars of the month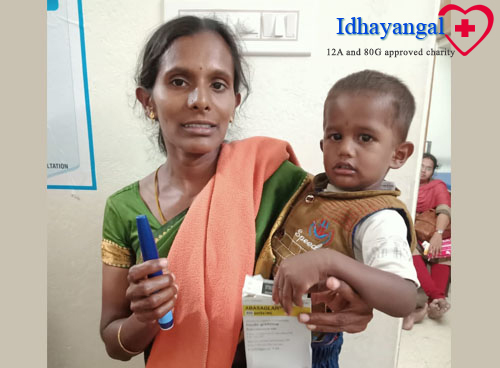 Stephen Raj all of 3 years of age, struggling family brittle type 1 diabetes on four times a day insulin,recent recovery from cardiac arrest, nothing seems to dampen Stephens zest for life, this happy go lucky child always smiling teaching grown ups how to live a life without complaining, with such a great attitude and fierce determination, Stephen and his dedicated mother are Idhayangal stars of the month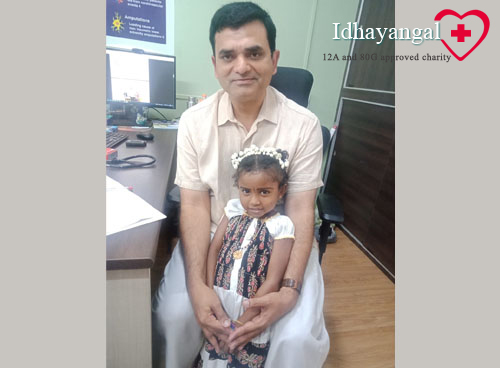 Joys of Idhayangal, the absolute faith and affection that children have towards the team has to be seen to be believed, moment of immense goodness when child Swetha recovering from a particularly bad diabetic emergency comes for a happy cuddle, again things that money can't buy, Swetha is the Idhayangal heroine of the month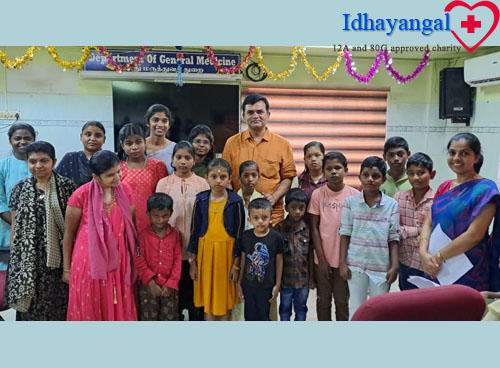 Joys of Idhayangal visits across State, rewarding day at Nagercoil supporting deserving underprivileged children with type 1diabetes, 2 sisters both visually impaired with insulin needing diabetes maintaining hba1c of 7 percent showing utmost discipline and immense happiness seeing us after 3 months, another child's mother gifting us a thank you bag inspite of financial difficulties, all our tiredness travelling from coimbatore to Nagercoil disappeared with such kindness thankfulness and generosity, all our children and families are idhayangal stars of the month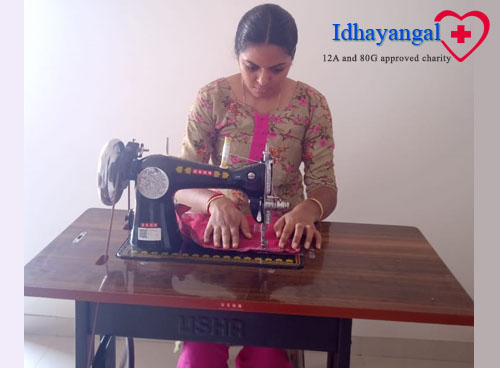 Varna presented to idhayangal 6 years ago completely emaciated , 5 major admissions with diabetic coma, poverty with no will to live, complete transformation courtesy Idhayangal donors, on insulin pump with A1c 7, pursuing degree in fashion technology with idhayangal support, beneficiary of Project Sakthi for upskillment with sewing machine enabling additional revenue during her free time, proudly displaying her first dress stitched with this support. Varna is idhayangal star of the month for her relentless determination and positivity inspite of so many obstacles in her life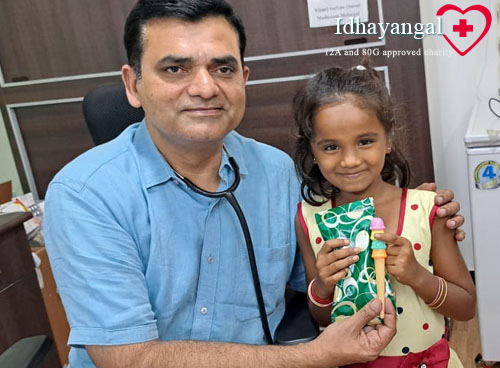 P.Thanusree showing not an iota of tiredness after traveling 8 hrs overnight to meet us, successfully fought a severe diabetic coma admission 2 years ago, receiving the star of the month award with such an awesome smile as though she hit a jackpot, such Godly innocence, reduced her A1c from around 12 percent to 7 percent inspite of challenging socioeconomic circumstances and illiterate parents, Thanusree is our idhayangal star of the month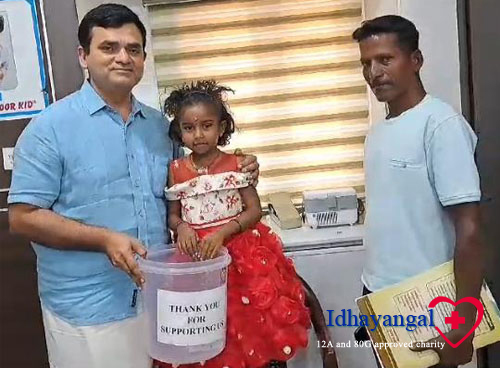 Swetha and parents celebrating her 6th birthday at Idhayangal by donating Rs 500 of their hard earned money towards painfree needles for other children at Idhayangal, Swetha is a God blessed child with a rebirth after a severe diabetic coma admission 2 years ago, now on 4 times insulin injections along with meticulous 3-4 times finger prick monitoring, A1c 7.2 from 15 percent, levels that adults with type 2 diabetes on tablets find it difficult to achieve, such a dedicated parents inspite of poverty and illiteracy, spare 2 mins of your valuable time for this video, swetha and her mother are Idhayangal stars of the month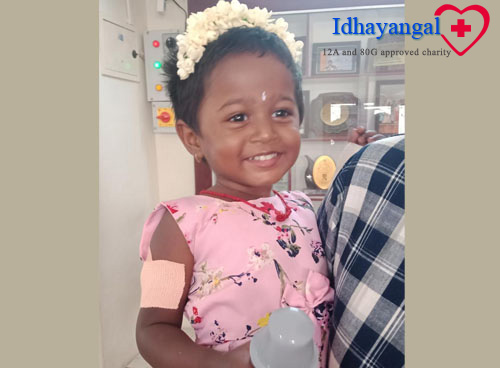 Young Prithika, within this tender age, has emerged victorious in various battles including prematurity with 3 month ICU stay, viral encephalopathy at 8 months and now severe diabetic coma due to type 1diabetes, she is a beacon of hope educating us adults on how to cope with severe adversity with a gracious smile and happy face, now doing extremely well on 4 times a day insulin, advanced glucose sensor and a bunch of beautiful flowers! Prithika is idhayangal star of the month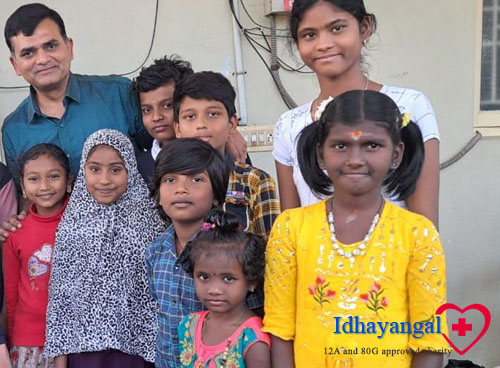 The joys of Idhayangal, every single child at one point of time given up by the system with uncontrolled diabetes, major recurrent admissions with coma and poverty, now doing extremely well with excellent glucose control, zero admissions and the best smile one can ever see, looking forward to their future as doctors, engineers and collectors, this smile and transformation possible only due to the absolute kindness and generosity of idhayangal donors and well wishers, thanks to all of you who are our stars forever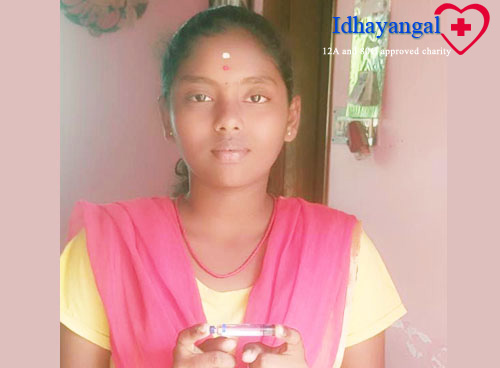 Priya from Kallakurichi district, taking the fight back to type 1diabetes doing extremely well now, having lost her dad in a car accident where she was a co-passenger 4 years ago, followed 2 years later by a delayed diagnosis of type 1diabetes leading to a 45 day coma from which she recovered against all odds, this child after waking up from coma asks for a pen and paper, writes that she dreams to become a doctor to help other children!goose flesh moment when mother showed the note, for the great attitude, determination, miracle recoveries and the beautiful smile inspite of all odds, Priya is idhayangal star of the decade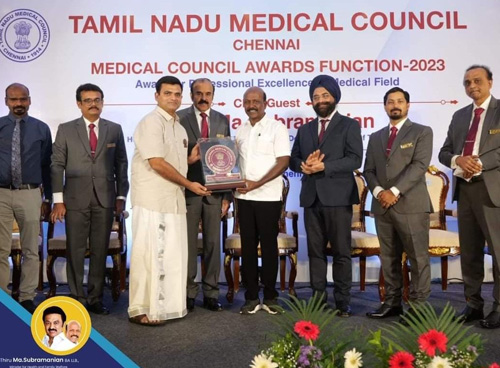 Honoured and privileged to receive the Tamilnadu Medical Council awards 2023 for outstanding Social service thru Honble Health Minister, this award is not for an individual, this is for all our deserving underprivileged children with type 1diabetes, their families, every single one of you, our donors, well wishers and Team Idhayangal, enabling us to support more than 60000 high quality insulin cartridges for last year, 4 lac insulin needles, 4 lac glucose strips, 220 insulin pumps, 2400 sets of pump consumables, 500 fridges to name a few. The real award is the 95 percent reduction in hospital admissions and close to zero mortality, thanks a million for all your support, 7 mins of Varalotti Anna speech on the award if your valuable time permitting, swami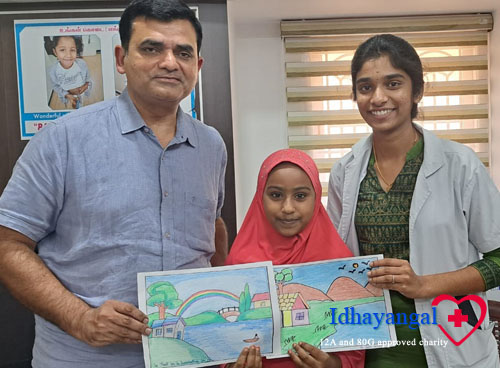 Samar Fathima, so innocently happy for achieving A1c of 7 percent, battling brittle type 1diabetes on 4 times daily insulin, behavioural issues, crave for junk foods,poverty with tenacious determination and focus. Such an awesome talent, presenting Team idhayangal with her artwork thanking us for the support, Smiley queen Samar is idhayangal star of the month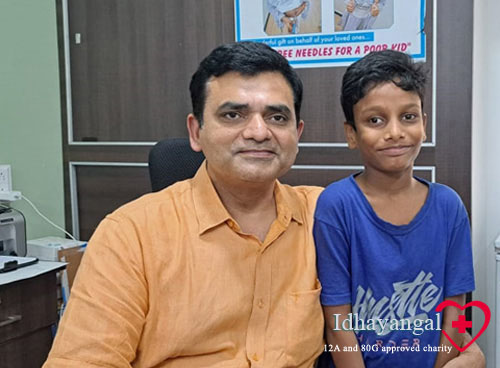 Gokul, full of life inspite of extreme poverty, brittle type diabetes, recurrent seizures, learning difficulties, so innocent and endearing when asked what he wants, kindly watch the 1 min video, all he wants is for us to help all around us, God bless Gokul, our idhayangal star of the month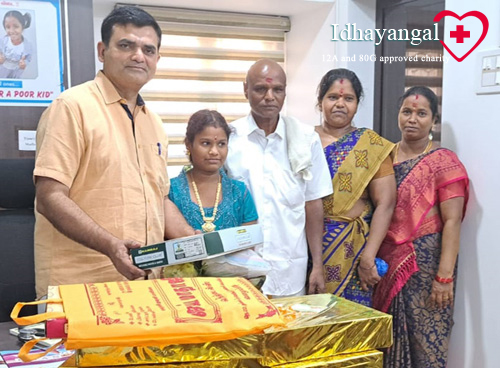 Yamuna and her family from deep interior Salem district, coming all the way to Coimbatore to celebrate her rebirth(day) with idhayangal family, same time last year, this child was nearly gone with diabetic emergency, this poor family got a loan for Rs 5000 to buy dhotis and sarees for Team Idhayangal making us choke with tears of joy, Yamuna and family are idhayangal stars of the month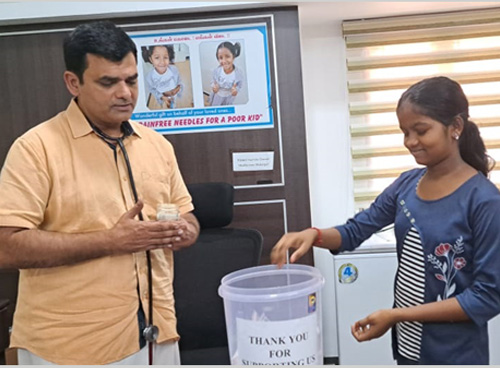 Awesome melting story of Livitha, eloquently described by Varalotti Anna,kindly listen to 7 mins of purified goodness, Livitha shows immense Godliness by not only cutting junk food and bringing her glucoses down dramatically but donating crumpled 20 rupee notes that she saved from buying junk to other deserving children at Idhayangal for painfree needles, extreme poverty outside, super billionaire richness in her heart, Livitha is idhayangal star of the decade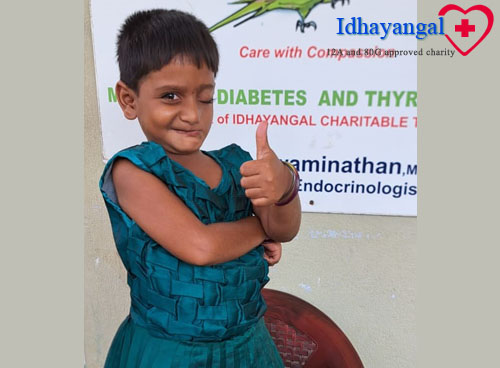 Dhaksanya, showing all grit, determination and victory sign after battling uncontrolled type 1diabetes, poverty, fungal sinusitis, loss of left eye, loss of left facial nerve but no loss of her smile, determination and ability to fightback, now doing extremely well on her recent clinic visit, looking so happy and radiant, Dhaksanya is idhayangal star of the month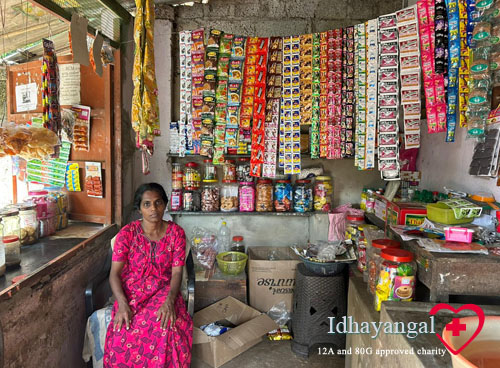 Idhayangal's efforts at sustainable livelihood for underprivileged children and families from Chennai to Kanyakumari on track, Indumathi, brittle type 1 diabetes supported by idhayangal from deep interior Salem district receiving sewing machine to kickstart livelihood, Arokiya from Kanyakumari district, single mother of type 1diabetes child, lost husband, physically challenged, settling up a small shop courtesy Idhayangal's Project Sakthi for rehabilitation of mothers, both families convey their heartfelt thanks to idhayangal donors for giving this opportunity to battle, idhayangal well wishers are our stars of the month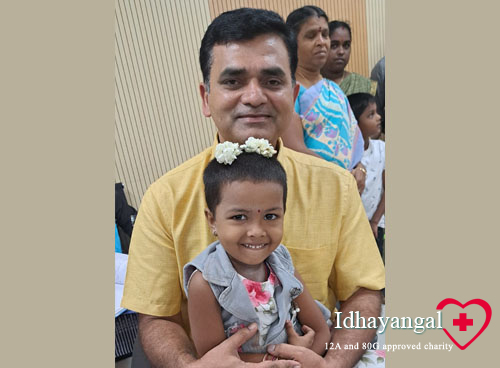 Joys of Idhayangal camps across State, Lithika from Tanjore camp, both at some point given up by parents due to uncontrolled diabetes, ignorance and poverty, now doing extremely well on 4 times a day insulin, great glucose control, looking extremely happy, both kids wanted to stay with us, such pure love and affection that cannot be bought, Lithika is idhayangal stars of the month
Joys of Idhayangal camps across State, Yuvarani from Tanjore camp, both at some point given up by parents due to uncontrolled diabetes, ignorance and poverty, now doing extremely well on 4 times a day insulin, great glucose control, looking extremely happy, both kids wanted to stay with us, such pure love and affection that cannot be bought, Yuvarani is idhayangal stars of the month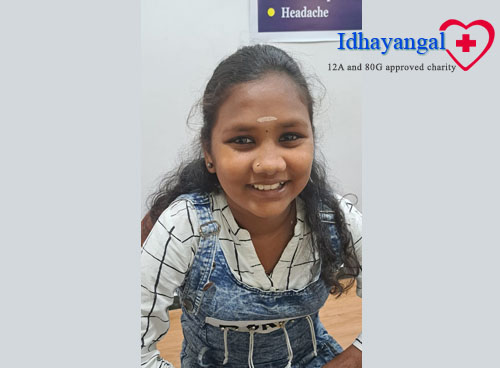 Swathi, brittle type 1diabetes, poverty, told by doctors that every single day of suvival is a bonus, after 15 admissions with diabetic coma three years ago, A1c 14, glucoses 500, now completely transformed with her sheer determination,God's will, huge diabetic education, fridge and high quality insulin support from idhayangal, current A1c 7.2, No admissions for 3 years, looking so happy and healthy, swathi is idhayangal star of the month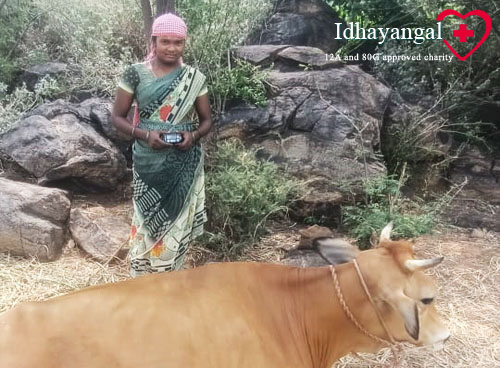 Meena, just 2 weeks post delivery, back to work with her cow, long standing brittle type 1diabetes, poverty, interior rural Tamilnadu, previous miscarriage, told by relatives that she has no chance of having a child due to her diabetes, showing huge grit and determination on insulin pump and motivation by Team Idhayangal. This awesome picture showing Meena, back to work within 2 weeks of delivering a healthy child, giving her bolus insulin thru insulin pump, somewhere in deep rural Tamilnadu encapsulates Idhayangal's dream of ensuring high end technologies benefit the deserving underprivileged. For showing this great attitude and determination in the face of extreme adversity, Meena is idhayangal star of the month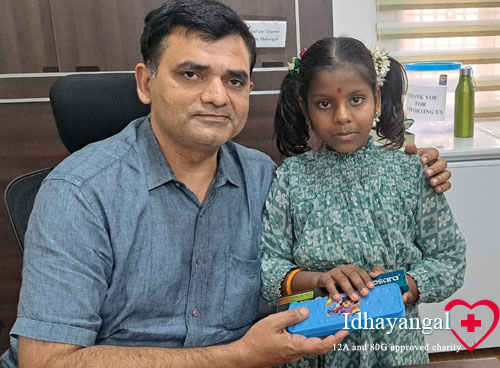 Amsa, showing extreme richness of her heart by presenting a pencil from her pencilbox gift to Sanvika, next child in line to see me. Amsa has battled glucose of 600, extreme poverty, lost her dad recently, reduced her A1c from 17 to 7 percent in 4 months! When we think this child has nothing to give, Amsa teaches us a lesson in the joy of sharing and giving whatever she has! Amsa is undoubtedly Idhayangal star of the month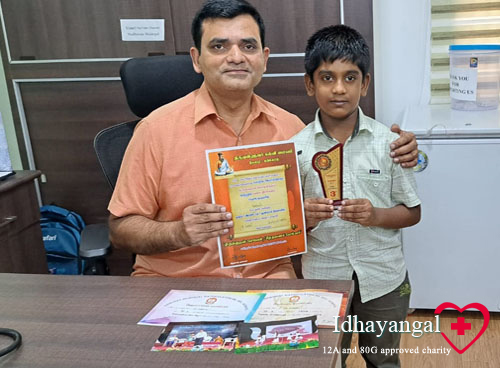 Nagul, such an innocent sweetheart, battling brittle type 1diabetes, extremely difficult finances, visual difficulties due to optic nerve weakness, showing huge commitment to his studies, proudly showing his award for reciting Tirukural at school, also innocently explaining a great message from this timeless masterpiece, Nagul is Idhayangal star of the month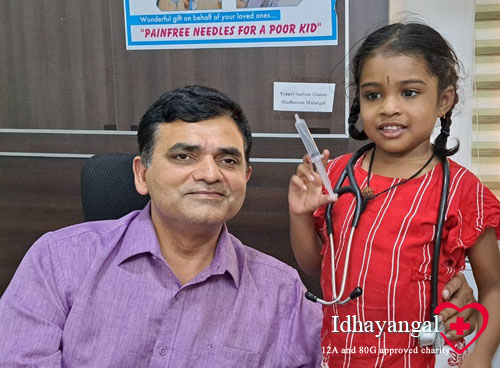 Kaviyasri, recovering from glucoses as high as 500 mgs/dl, now happily and confidently walking around our trust centre playing doctor with a steth and syringe, clearly wants to become a "diabetes" doctor helping other children, it was such a joy to have Kaviya pose for a Dr Kaviya picture, Kaviyasri is idhayangal star of the month
Harsha battled 19 admissions with severe low glucoses and seizures, very brittle type 1diabetes, now doing extremely well on insulin pump courtesy Idhayangal, showing her supreme talents and gratitude by presenting this beautiful handmade flower vase made by herself to Team Idhayangal during her recent clinic visit, her beautiful smile, attitude and thankfulness is a Godsend, Harsha is idhayangal star of the month Swami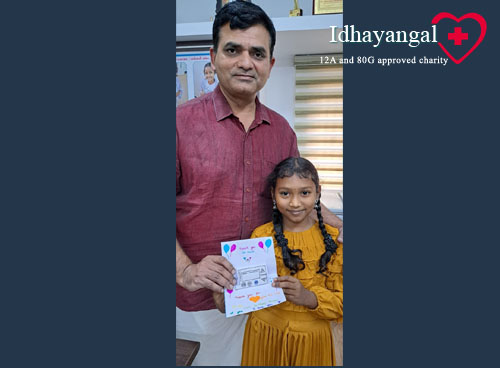 Thithiksha, very brittle type 1diabetes, life transformed by insulin pump supported by Idhayangal, showing her gratitude and happiness to donors and we'll wishers by this drawing, she is keen for her benefit to be available to all underprivileged children across India, Thithiksha is Idhayangal star of the month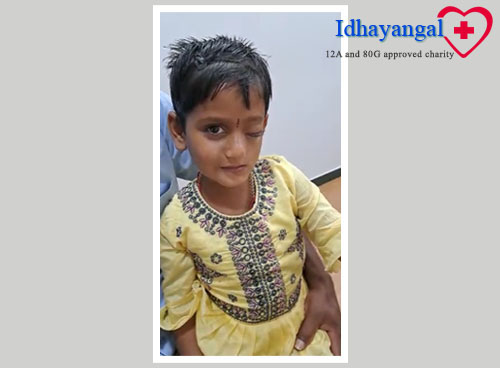 Joy to see Dhaksanya in clinic yesterday, this awesome child lost her left eye due to uncontrolled diabetes, fungal sinusitis, extreme poverty, giving the fight back to all ills thrown at her at such a young age, looking so happy in the 30 sec video, now doing extremely well on 4 times a day insulin, Dhaksanya is idhayangal star of the decade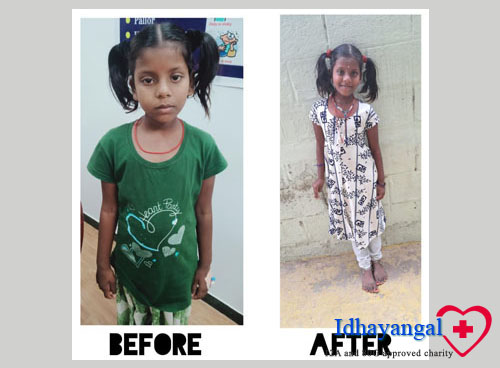 Transformational heart warming change in Amsapriya, presented to idhayangal 14 days ago with glucoses >600, dehydrated, single mother with 2 siblings, rank poverty outside bit a very rich fighting heart inside, showing huge discipline on 4 times day insulin along with regular glucose testing, very happy and positive within 2 weeks of treatment at idhayangal, Amsapriya is idhayangal star of the month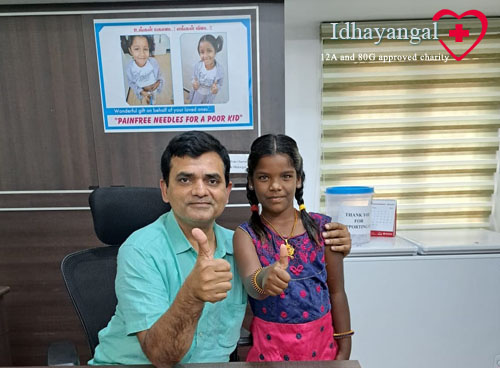 Swati from very poor family, hearing and speech impaired along with type 1diabetes, always a happy smile , never complaining, keeping her diabetes well under control, happily wanting a photo with her doctor, Swati is idhayangal star of the month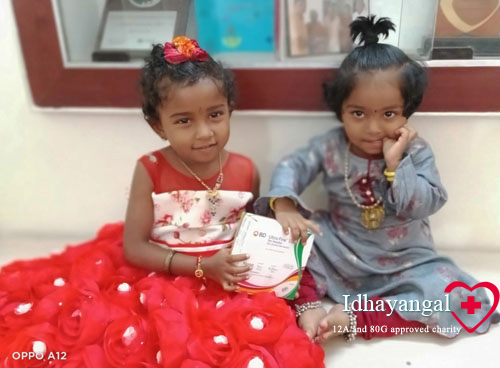 Two tiny tots having a great time at our Idhayangal Trust centre,discussing important issues! Great to see both kids looking very happy after recent diagnosis of type 1 diabetes recovered from diabetic coma, Swetha and Priya are Idhayangal heroines of the month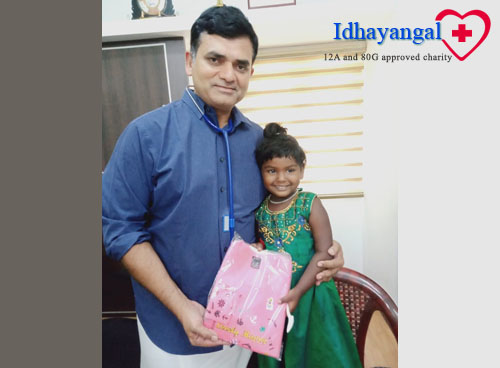 Rithika from Tiruppur, type 1 diabetes for 2 years, lost her dad, mother and Rithika working hard on diabetes, maintaining glucoses between 100-200 mgs / dl, receiving the Best Child Award from Idhayangal, Rithika is Idhayangal heroine of the month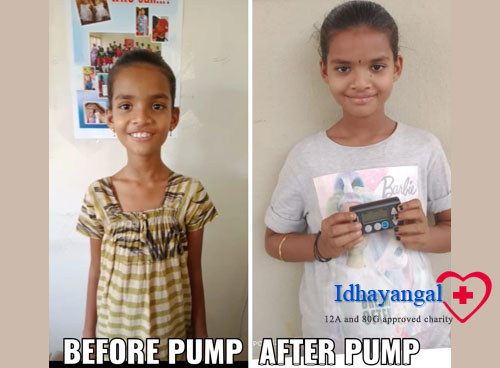 Iniya completely emaciated and malnourished a year ago with uncontrolled type 1 diabetes and poverty, transformed completely with God's blessings, all your support and Idhayangal team's hardwork, excellent determination on insulin pump, before and after images along with a great dance, poverty outside,richness in strength and determination inside, Iniya is Idhayangal heroine of the month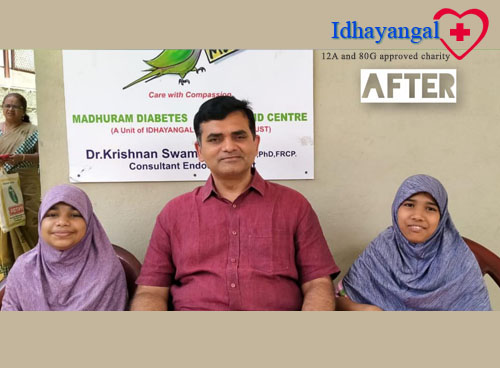 Nilofer and Dowlath both of them sisters and residents of an orphanage in Trichy, both paralysed waist down since birth, severe hyperglycemia for both 3 months ago with glucoses more than 500, most painful situation of having to rush to the rest room about 15 times in the night due to uncontrolled diabetes, hats off to both these God bleesed kids to show such determination in the face of great adversity on a recent visit to Coimbatore,so happy and doing well on insulin, Nilofer and Dowlath are Idhayangal heroines of the month Swami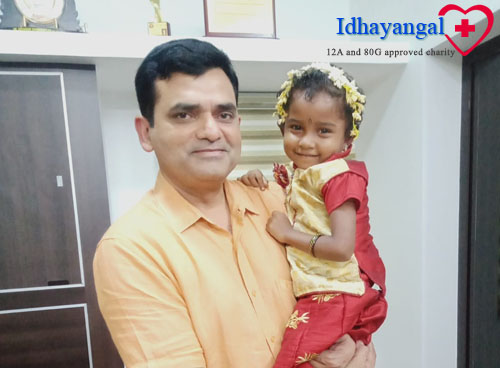 Swetha from a rural forested area near Sathyamangalam, struggling family, extremely high glucoses with major diabetic coma admission just 2 weeks ago, looking so happy during yesterday's follow up, the awesome smile of this child is so heart warming, Swetha is Idhayangal heroine of the month Swami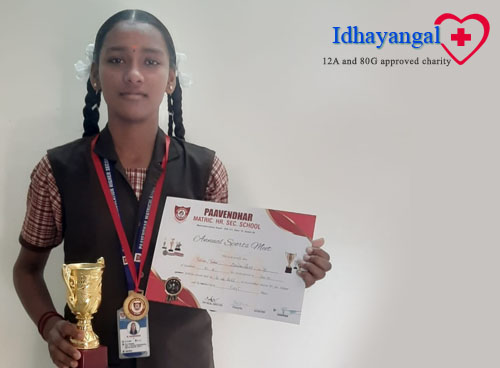 Madhusri from Athur, Type 1 diabetes, extremely difficult health and financial circumstances, supported by Idhayangal Charitable Trust with insulin pumps and education, bagging the first prize for 100 m run and second on 400 m relay, making a statement that sky is the limit, mother in absolute tears of joy as Madhusri was branded as having a bleak few years prior to Idhayangal intervention, thanks for all your support Swami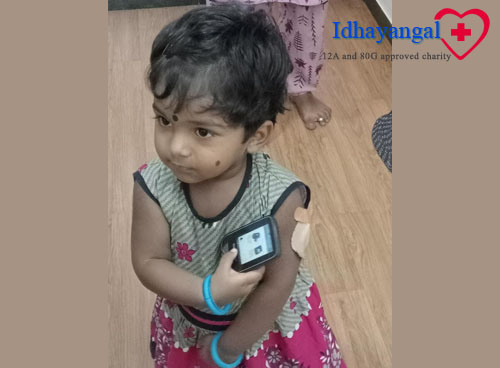 Isai priya just 1 year and eight months of age, battling brittle type 1 diabetes, on four insulin injections a day, demonstrating how to use the advanced glucose sensor to Idhayangal team, this awesome child's smartness,grit and determination at this tender age is Godly, Isaipriya is Idhayangal star of the month, Swami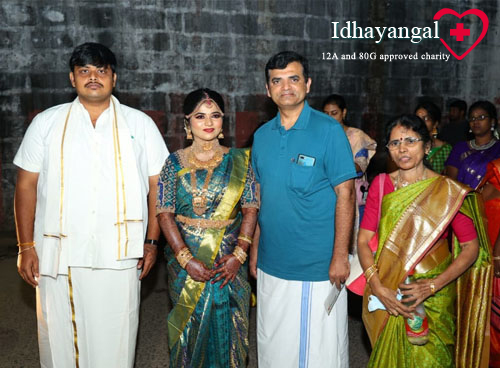 Sathya from Tenkasi, type 1 diabetes recovered from severe diabetic coma 8 years ago and doing extremely well with Idhayangal support getting married'at Cuddalore, humbling goose flesh moment when she requested me to give the mangal sutra inspite of all the family around, God bless the couple, Sathya is Idhayangal heroine of the month Swami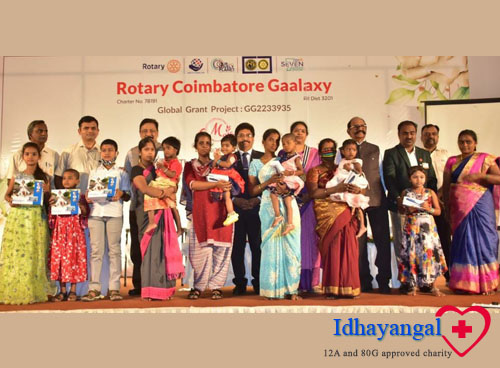 Idhayangal Charitable Trust and Rotary Coimbatore Gaalaxy are happy to inaugurate Project Mathuram supporting 70 underprivileged children with type 1 diabetes across Coimbatore district for 2years with best insulins consumables blood investigations and rehabilitation of families, deeply grateful for all partnering rotaries in Tanjore, New York and Sourh Dakota for their relentless efforts to make this project possible Swami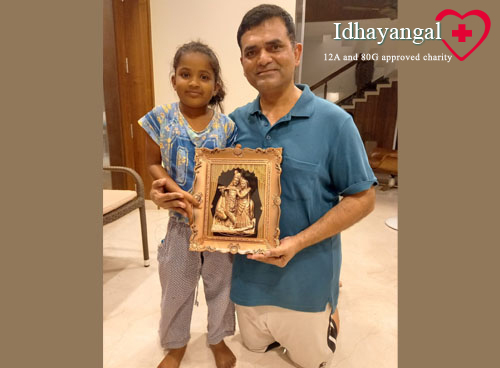 Yogalaksmi from Tiruvannamalai, very brittle diabetes now doing extremely well on insulin pump, rank poverty outside but absolute richness in heart, presenting this surprise gift for my birthday at our home, great things that mere money can't buy, Yoga is Idhayangal star of the month, Swami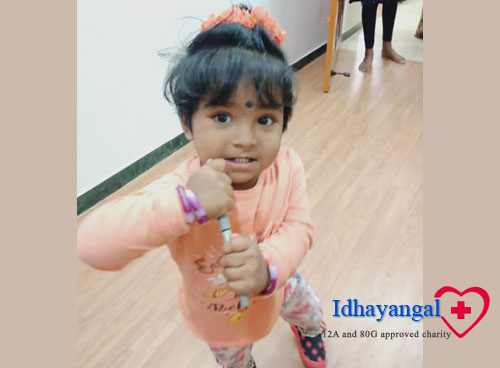 Devisaipriya, an absolute sweet heart, all of 2 years old, recovered from major diabetic coma recently, demonstrating how to use insulin pen, God bless her for her grit and determination in adversity, Isaipriya is Idhayangal heroine of the month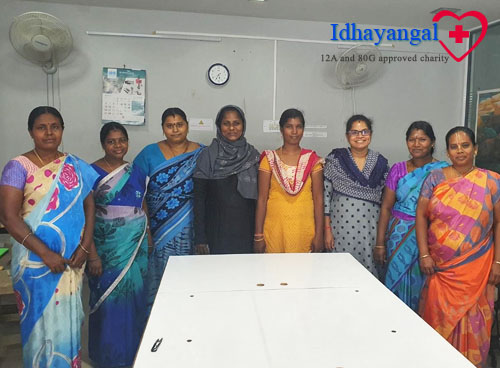 Idhayangal mothers of children with type 1 diabetes happily attending advanced tailoring course as a part of Project Sakthi to empower women of our children to sustain livelihood and medical expenses, each mother has been supported with sewing machine at their home, our Idhayangal mothers are stars of the month, Swami
Kiruthiga happily going home yesterday with her baby, battled brittle type 1 diabetes for 14 years, huge thanks to all Idhayangal donors and well-wishers by supporting Kiruthiga with insulin pump therapy, consumables and blessings, family and Idhayangal convey their heartfelt thanks, great to go home with a bundle of joy, Swami
Idhayangal Charitable Trust organised a day's course for 40 underprivileged children on insulin pumps on 7th July 2019. Many of these children had major admissions with diabetic coma pre-insulin pumps with poor insight into their diabetes. It was a complete joy to watch these children doing extremely well on insulin pumps. Most of their glucose levels were well under control between 100-200 mgs/dl (was 500-600 mgs/dl) pre-pump, were doing really well with their studies and more importantly wereconfident of their future and life due to all your support and contributions. It was a pleasure to see Ramya Bharathi, who came to our emergency with impending cardiac arrest just a few months ago back to her normal cheerful self. Children as far as Tirunelveli, Mayiladuthurai came for this course and learnt a lot from each other experiences. Below is the photo of children with our team, as the course finished. Idhayangal thanks all the contributors for enabling us to change the lives of these deserving children.
God bless this child with type 1 diabetes who had come from the jaws of death courtesy of God and health insurance cover. She is receiving the bravery award from Dr. Nalla G Palaniswami for her immense mental strength in the face of severe adversity in ICU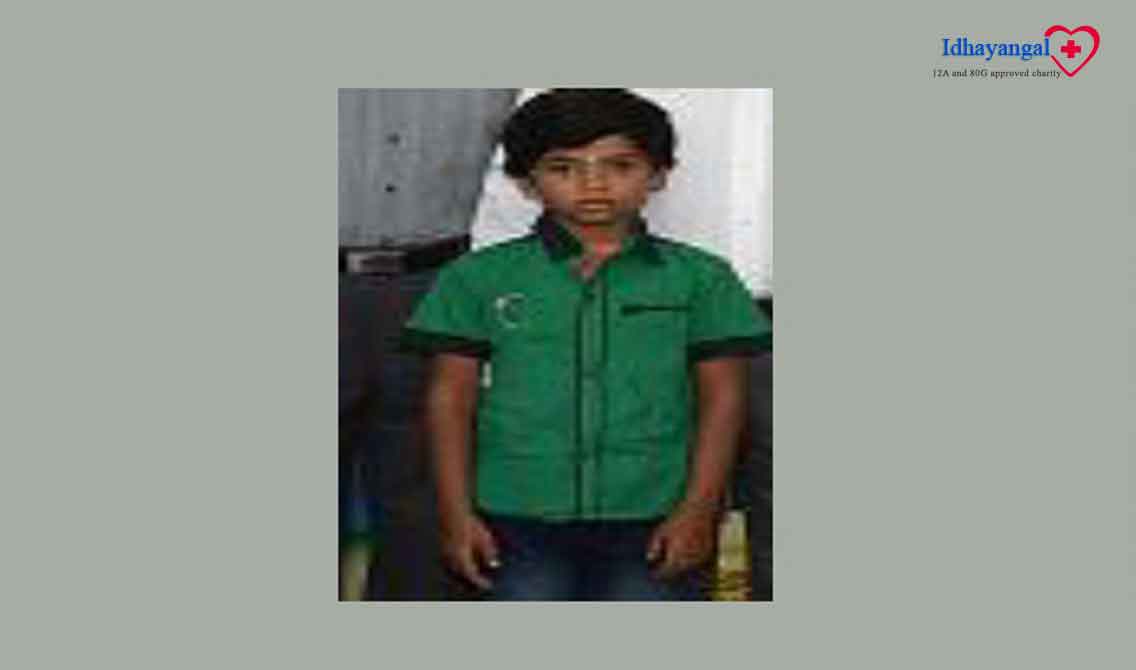 Arjun was one of the reasons for starting Idhayangal. This is a poor boy who was given up in Madurai and advised to take him home after a severe diabetic coma due to type 1 diabetes. He was finally saved after a battle on exactly his birthday, which we celebrated in ICU about 6 years ago. Arjun had a severe intercurrent illness last week and his mother brought him to Coimbatore from Madurai just having absolute faith in our team. He had a brief admission in our hospital and improved dramatically. He is one of the children whom we are supporting with studies, insulin and health insurance cover. On the day of discharge, the mother and son were standing uncomfortably in my OP requesting a "small favour". All Arjun wanted to do was to give me a hug and kiss for all the help Idhayangal is doing for him and his family. Tears were streaming down my eyes in a busy OPD and none had a clue as to why? It was a emotional moment to have this little boy hug me and plant a kiss on my cheeks, which no amount of money can equate. With another 30 patients waiting, all the tiredness disappeared and this little boy made my day. This simple gesture has motivated all our team to do better for these children for years to come.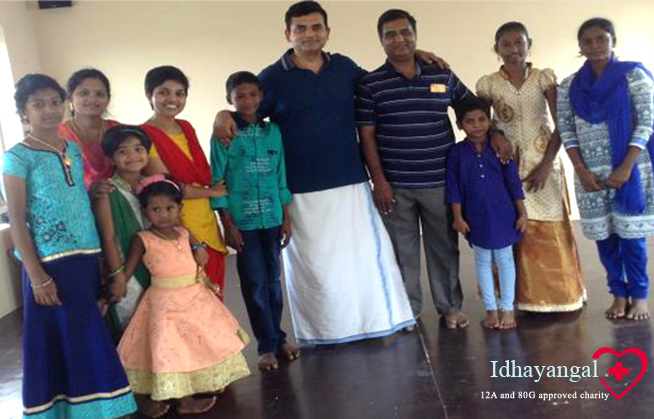 Idhayangal Trustees decided to have a small get together on the eve of Diwali at their residence. We had around 6 families along with the children benefited by the Trust come together to have a day of fun. We had a day of singing, dancing and yoga at our community hall followed by flower pots and fun. All children had new Diwali dresses along with goodies, Parameswaran, one of our children was presented with his dream of having a cycle to get to school as the bus facilities were not adequate. Overall it was a great day where everyone forgot their worries and celebrated a great Diwali with the trustees and their familes.
We are immensely thankful to all our Contributors, well wishers and Star health team for getting us to reach the 50 mark for a Rs 2 lac cover for underprivileged children with type 1 diabetes (1 crore worth of cover for this annum). This has given a great peace of mind to all our families and has been life saving for the past one and half years since we started this scheme. We have another 50 children to enrol but doing this on a case by case basis, based on priorities. Our dream is to cover every single child for an unexpected admission, which can break families.
Future plans
We still have around 20 children on the waitlist for insulin pumps, 120 children are getting supported as of now and the numbers are increasing every month. Kindly pass on the message
Adopt one child for Rs 10,000/ annum for your family's occasions like birthdays, anniversaries Support one pump for 1 child at a cost of Rs 1.5 lacs
We are extremely humbled by all your support and contributions; we will keep in touch in a couple of months
Warm Regards
Dr Krishnan Swaminathan on behalf of Idhayangal Team
Warm Regards from Idhayangal Charitable Trust.
Firstly, many thanks for your thoughts and considerations to give a helping hand to our deserving children with Type 1 diabetes. We are deeply humbled as there are many deserving causes in India and still you thought of us. With your help, we currently support 50 poor children with Type 1 diabetes in absolute need of help
We wish to give news and updates every 2 months, hope this gives you a flavour of how your contributions make a difference to poor children with Type 1 diabetes.
Vasantha, a 10 year old bright girl was admitted with severe diabetes and ear infection with a very high chance of death. With Idhayangal's support, she braved an ICU admission, two operations on the right ear, 6 weeks of very powerful, costly but life saving antibiotics and insulin to meet us on the last day of her antibiotic therapy and discharge. She dreams to be a scientist like our Great Abdul Kalam! We have promised all support to this child and their family to achieve her dreams. Our support would not have been possible without your support. The family requested me to convey their immense gratitude for all Idhayangal contributors and requested all your blessings for this bright young child.
IdhayangalCharitable Trust deeply mourns the death of Sathyaprakash, who is only 27 years old, he leaves behind his young wife and a 4 year old daughter. Sathyaprakash has had Type 1 diabetes for the past 10 years. Due to poor insight, lack of finance and lack of access to good doctors, he unfortunately developed kidney failure due to poorly controlled Type 1 diabetes. We have been supporting Sathyaprakash for the past one year with insulins, renal transplant work up and psychological support. He had a kidney transplant done 6 months ago but unfortunately got rejected. He has had a downhill course since then. In spite of all our support as well as the transplant doctors and the hospital, Sathyaprakash passed away 2 weeks ago, mainly because the family could not afford the care. I was the last one to see him in his death bed. With a deep pain in my heart and tears in my eyes, I asked Sathyaprakash whether he wanted to tell me anything. All he could muster was a faint smile, he thanked all the donors of Idhayangal Charitable Trust for the generous support over the last year, he said he had enough of pain over the last 4 years and wanted to die peacefully at home. His final 2 requests were to see whether we could help his daughter get a good education and support his wife and the last wish was for me and Idhayangal Trust to work harder so that no one with Type 1 diabetes gets his fate for want of better access to healthcare and insulins. He simply closed his eyes after these requests. A wave of sheer impotence spread through my heart in that in this day and age, we are still allowing a young chap with type 1 diabetes die with his full life before him, a great family and a beautiful daughter. We deeply mourn the death of Sathyaprakash, heartfelt condolences to his family.
Dear Contributor/ Well wisher.
Words are not enough to tell how grateful we all are for your contributions, we see every day what a change we make in these kids' lives and how much more work we need to do to ensure that there are no more Sathyaprakashes in future. Kindly spread the message of our work to family, friends, philanthropists, corporates and like-minded people, we need all the help. Also any help towards Sathyaprakash family in terms of the daughter's education or gainful employment for his wife is greatly appreciated.
May God bless you, our family and friends with health, wealth and peace.
As always, we sincerely believe in our motto:
"A small act of kindness is much more powerful than a thousand heads in prayer"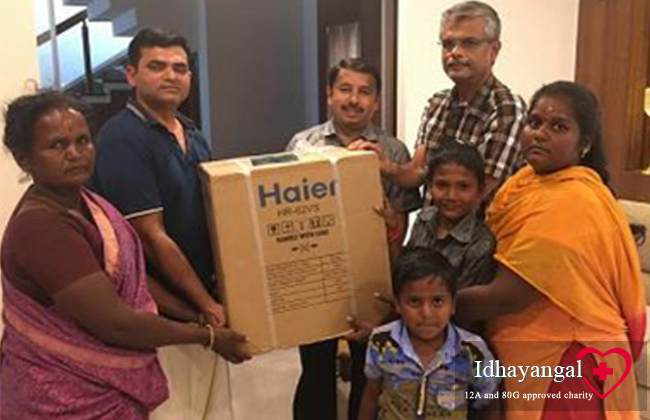 Parameeswaran is a bright 8 year old boy with Type 1 diabetes. He was recently referred with glucose of 750 mgs/ dl, completely dehydrated and in impending diabetic coma. His dad is in a mental asylum and his mother and grandmother are coolie labourers earning Rs 150 each per day. He has had Type 1 diabetes for 3 years, they have been running from pillar to post in search of some magic cure. Finally they had exhausted all options but by God's grace, heard about Idhayangal Charitable Trust and came to us. We admitted Parameswaran under our care, got him better and now he is on the best insulins at his door step. We have also provided him with a fridge to ensure that storage is properly followed. He is back to school. Idhayangal Charitable Trust, through your support, has made a great change in his life by supporting his admissions in a good hospital, getting him the best insulins and a fridge and supporting his school education.These are the words from his tearful grandmother, "Ayya, we have never known where God is but we now see Gods in every one of you who have supported us in a time of need". Idhayangal Charitable Trust supports his school education. We dream of a day when Parameeswaran makes it big and gives back to society what he is getting now. Parameeswarn and his family, our donors during the fridge presentation.
We go in search of Gods to various temples around the world, for us it was a humbling and inspiring experience to see God & Godliness at Hosur. It all started with call from our friend and well wisher Dr CS Mani and his wife Dr Kamini that his father-in-law Shri Ramamoorthy, a 95 year old pensioner at Hosur was keen to contribute towards Idhayangal's causes. We made a day trip to Hosur to meet Shri Ramamoorthy, more to get his blessings and what a day it was! Shri Ramamoorthy hails from a small village near Kumbakonam and due to his sheer hard work he had made it to the top in Electronics. After the initial introduction, he enthusiastically enquired about our work, watched Idhayangal's videos and without a bit of hesitation wrote a cheque for Rs 2 lacs. Tears were rolling down our eyes to see an elderly pensioner innocently parting with 2 lacs of his hard earned money that he could have given to his extended family. All his request was to ensure that this contribution helps poor children with type 1 diabetes irrespective of caste, creed or religion ! What more Godliness can one see or why do we even go to temples to see God? Adding further, he had a small tear in his eye when he said that he watched his father die in the pre-1950s without medical help and poor finances and his dream is to ensure that no one, especially children suffer this fate. It was as though God wanted to teach us a lesson by driving to Hosur to keep telling us to do better by seeing gems like Shri Ramamoorthy & his wife. After a great coffee by Dr Kamini, we prostrated before Shri & Tmt Ramamoorthy and took leave of this unbelievable couple. We sincerely wish God gives great health, wealth and peace to this lovely couple. We hope we can celebrate his 100th birthday with Idhayangal's children. Below is the photograph of these great people.
Warm Regards from Idhayangal Charitable Trust
Advance Diwali wishes to all you and family.As of now, we are supporting 60 patients, predominantly children with Type 1 diabetes, all because of your goodwill.
We are delighted to share with you that we have been shortlisted for the BMJ South Asia awards 2018 as one of the best non-communicable disease initiatives of the year, we are hopeful to get to the final round from around 2000 applicants through out 7countries in South Asia, we have made it to round 2 of 36 entries from around 2000 ! Will update if we are lucky to go to the final round in Chennai on 1st December.
On behalf of all our children from the Trust, we extend our happy diwali wishes.
Warm Regards
Swami on behalf of all trustees
"A small act of kindness is more powerful than a thousand heads in prayer"
Our promise to Sathyaprakash (Type 1 diabetes patient, 27 year old, who passed away recently with advanced renal failure leaving with him a young wife and a 4 year old daughter) on his last day of his life was that we would not let down his child and family. To this, see attached photo of our support for this child's school fees for this quarter, all trustees are determined to support his daughter's schooling and college and a stable income for his wife.
Kindly consider supporting this family through Idhayangal on the eve of Diwali, no contribution is small.
We are working hard to extend our support to plenty of children on the waitlist, we are connecting with colleagues and like-mined people throughout India, many thanks for your absolute trust in us. God bless you and your family with excellent, health, wealth and peace.
On behalf of all our children from the Trust, we extend our happy diwali wishes.
Warm Regards
Swami on behalf of all trustees
"A small act of kindness is more powerful than a thousand heads in prayer"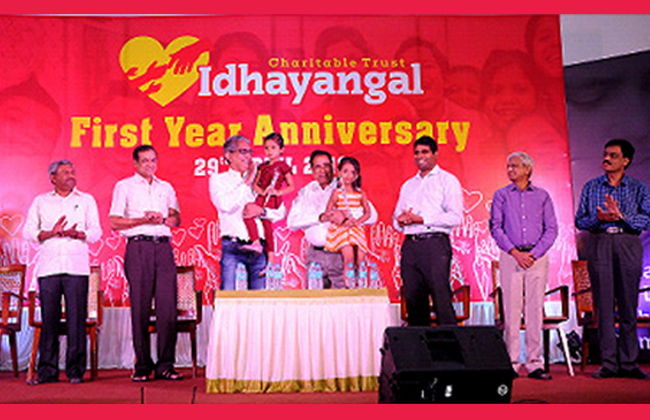 We successfully completed our first year of birth in India. Our annual day celebrations were held at Sitra auditorium, Coimbatore. The 500 seater was filled to capacity with our children, their families, donors and well-wishers. We remember April 2017 where we started with zero money and a lot of goodwill, over the one year period
With several of the ex-trustees and present trustee involved in diabetes care, this area has always been close to our hearts. We particularly are against discrimination of young girls with type 1 diabetes in our country. Dr.Krishnan Swaminathan has been closely involved in liasing with MNC's supplying insulin to give free insulin till 18 years of age to those children from low socio-economic status where the burden of long term insulin can lead the parents to discontinue the insulin.
Idhayangal has sponsored a small fridge for a young boy Master SivaPrakash with type 1 diabetes, whose diabetes control is erratic due to storage issues (see photos), Dr.O.R.Kumaran, & Dr.Subramanian, Senior doctors @ Apollo Hospital graced the occasion in the presence of the trustees Dr.Sujeetha Damodaran & Dr.Krishnan Swaminathan. We have also sponsored advanced diagnostic aids for two young girls that has directly led to improved glucose control. All the three children's families could not afford the above costs.
Idhaynagal had immense pleasure in organizing a summer camp for children living in Vidiyal reception home, Muthupatti, Madurai. Vidiyal is an organization run by a dedicated couple, Mr.Jim Jesudoss and Dr.Sharmila. Vidiyal's aims include rehabilitation and reintegration of street and working children.
Our summer camp was the first of its kind to these bright and energetic children. The activities included arts, painting, yoga, cookery and dancing. It gave immense satisfaction to see young children getting involved in all the activities with great energy.
The three day programme was Concluded with a brief presentation ceremony followed by cultural activites by all the children. Mr.Muralidharan, Principal of KVT School, Madurai along with his wife Mrs.Neela were the chief guests for the ceremony. Idhayangal wishes all the children in Vidiyal a bright and prosperous future. We will continue to lend a helping hand for these kids in the future.
Idhayangal teamed up with the Rotary Club of Madurai to help Mrs.Ambika, a young mother of two with thyroid cancer. The family are from a very poor socio-economic status and could not afford a specific treatment for the thyroid cancer due to lack of funds. Idhayangal is extremely grateful to the Rotary Club of Madurai (Central) for their help to this family. Idhayangal donated Rs 5000 in addition to the Rotary Club's contribution of Rs 25,000 to make this treatment possible for this lady. Heartfelt thanks to Mr.Sasi Fomra, President Elect of this Rotary Club as well as to all the members of this club. A small gesture has made a big impact to the lady and her young family.
Idhayangal in association with AASHA Charity from UK donated school bags, uniforms and slippers for a group of 50 children from Children's paravai home in the outskirts of Madurai. These children are predominantly from the Narikuravas and kudukudupays family. A family has undertaken the responsibility of giving a shelter as well as making sure these kids go to school everyday. Idhayangal trustees were happy to see the look on the faces of these bright young children when they received their uniforms and bags. We greatly appreciate Dr.Veera, Chairman of AASHA Charity as well as all other trustees for their help with this project. Please visit their website
Idhayangal facilitated the continuos supply of L-Asper, an important chemotherapeutic drug for the treatment of childhood leukemias. The number of children benefitted from this project was 30. All the children were based at Children's hospital, Egmore, Chennai.
A doctorwho accompanied wrote:
He could hardly be 6 or 7 years old. Skinny. You could see the outline of even his limb-bones. But that was not the striking feature when you saw him. It was his abdomen. It was huge. Thick dark lines could be seen on the skin. "Caput medusae - have you seen it before?" asked Dr.Ravichandran, Assistant Professor of Hematology, ICH. None of the 3 of us had the mind to answer him. Liver cell failure due to some leukemia/lymphoma whatever. But the physician in us had long gone into hiding. We realized that we were ordinary mortals, helpless like any other, may be more so as we had an idea of the prognosis. It's just impossible for anyone reading this to perceive how painful it was for us to gather a few children to pose along with us for a photograph. We had to do it, to spread the message that there were people who needed help. Most of the children could not only recite the name of their (chemotherapeutic) drugs but also identify them. They were well versed with their own dosage schedule too. It was fortunate, as most of the parents were illiterate/ignorant and the staff nurses were overworked
Idhayangal was closely involved in setting up of the first of its kind pediatric palliative care unit at Children's Hospital, Egmore in association with Mrs.Deepa Muthaiyya, founder of Dean Foundation (www.deanfoundation.org). Our passion for this project stems from Mrs.Deepa Muthaiyya's input and her single minded determination to improve palliative care (end of life care) in India. It is very painful to see anyone especially young kids with terminal illness to die a painful death with no medical, moral or spiritual support. Therefore this project gives Idhayangal great satisfaction. This unit at Children's Hospital, Egmore is a dedicated 5 bedded unit for palliative care. Please visit the Dean foundation website to know more about palliative care and ways to help. We have attached the link for this project from Hindu newspaper below
Idhayangal, in co-ordination with DEAN Foundation, arranged for essential palliative care medications to 124 poor patients suffering from varying degrees of terminal malignancies. A lot of poor patients with intractable malignancies in India die a painful death. Such patients are asked to go home by the hospitals due to various reasons. Palliative care is an area of healthcare that helps people from their suffering especially when they need it most. We are extremely grateful for Mrs.Deepa Muthaiyya to have taken this concept to a new level in our state (www.deanfoundation.org). Our funding for supply of such essential pain relieving medications has been of great help to all the families. Below is the letter from Mrs.Deepa
Dear Dr.Swaminathan,
We are grateful for all the help you gave us. I would like to share a small story with you about one of the patients we are caring for.... We have a patient who is 35 years and is suffering from Cancer of the penis, due to which a lymph node in the groin region, ruptured and became an ulcer. This in turn caused his left leg to swell up. Now the whole leg is ulcerated and oozing lymph. He is bed ridden. Life expectancy could be only "days", say our Doctors. His wife is a coolie, in a construction site. She leaves in the morning and gets back in the evening at 7.00p.m. carrying loads for Rs 150/- a day. This amount just about takes care of their food and rent! They have three small kids who go to school. (They borrowed the money for the fees). An extra Rs 50/- goes for buying cotton to dress his ulcer. Being all alone at home, when he passes urine, it trickles over the ulcer causing a severe burning sensation. There is no one home to help him cope and give him any assistance. His loneliness and fear only compounds the agony. If only his wife could stay behind at home, they could spend the last few precious days together and she would have the satisfaction of having tended to his needs. Dean Foundation's Home Care team, visits them and gives medical care, medicines and counselling. This is a story of just one of our 128 patients. It is patients like this who you helped.
Thank you so much.
Deepa.
Neonates, LTMG Hospital, Mumbai Idhayangal donated electronic weighing scales and replaced about 30 infant warmers at LTMG Hospital, Mumbai. This is a municipal hospital covering Dharavi. Professor Jayashree Mondkhar is the Professor & Head of Neonatology. They have a dedicated team looking after a lot of neonates from the catchment area. We have also installed a neonatal ultrasound machine worth Rs 6 lacs to this unit to detect complications like intracerebral bleeds, cardiac defects and liver problems without delay. The warmers and the ultrasound machine have been put to good use. The ultrasound machine is of high teaching value as well to postgraduates in neonatology and radiology.
Idhayangal funded a braille printer for Sree Rakum Blind school in Bangalore. Sree Rakum is a phenomenal person who takes care of approximately 175 visually challenged children. The braille printer has made a tremendous difference for these kids and we hope to continue with the supply of braille paper for the long term
Idhayangal completely refurbished essential physiotherapy equipments for about 70 children with varying degrees of spasticity in a home (Paradise Home) near Mahabalipuram. All equipment before were advanced wear and tear, therefore all the new equipments have made a great difference to the quality of life to these children. The total number of children who were helped by this project was 70.
David Johnstone Memorial Project: Project White Smiles We organised a dental project for 30 children from an orphanage in Chennai with the help of a dedicated Dentist Dr.Muthu Murugan. The aim of this project was to provide long term dental care for such children to prevent dental caries which is a common problem affecting these kids. The Project was successfully completed, image from the project is on the above link.
Idhayangal donated 5 computers to a village near Villupuram, this project was mainly to help youth from poor socioeconomic status to get a gainful employment in this IT world. Mr.Sivaram Sundaresan, a well wisher for Idhayangal inagurated this project. This has proved to be a big hit with plenty of ruraL young graduates able to gain from the use of these computers, see photo below
Idhayangal supported a range of physiotherapy equipments for an organisation called "AHEAD" in Kolkatta which helps with plenty of children with varying degrees of cerebral palsy, muscle disorders and physio needs. We are extremely thankful to Dr.Asesh Banerjee, President of AHEAD organisation in Kolkatta in making sure that all the children were benefited.
Idhayangal funded the installation of an oxygenator at a rural PHC on the outskirts of Chennai. A lot of children had to be transferred thru a long journey to tertiary referral centres before they could get help, the installation of the oxygenator has made a big difference to these neonates in terms of outcomes. We thank Dr.Rajkumar for his co-ordination with this project
We have funded the services of a part-time speech therapist for 12 children who are in desperate need of such therapy in Tiruppur. These children are looked after by Inner wheels club which is closely linked to Rotary Club. The speech therapist has made a big difference to the progress of these children with varying degrees of speech problems and cerebral palsy. We thank the Rotary Club of Kirkcaldy which helped us fund the project.
Idhayangal was intrumental in setting up the low visual aids clinic at the Eye Hospital, Egmore. A number of patients from the poor socioeconomic strata lose their livelihood because of visual problems, this clinic helps these patients to have gainful employment by supplying low vision aids.
Idhayangal supplied vital aids and appliances for disabled people around Villupuram area in Tamilnadu, we genuinely hope that we have made a small difference to the lives of the physically disadvantaged people of this area, below are the comments from Mr.Susainathan who coordinated this project. To Dr.K.Swaminathan Idhayangal Dear and respected sir, Warm and thankful greetings from ARMDS, Irudayapuram, Villupuram District, Tamil Nadu, INDIA! We are really thankful to you for supplying Aids and Appliances for the disabled in our area. We distributed them in a function organized on 18th August, 2010 at 4.30 pm. The function was organised under the chairmanship of Mrs.Arul Mary, the President of Mugaiyur Panchayat. Mr.S.Marianathan, secretary RED, Thappovanam, Thirukoilur, Mr.Vincent, ward member, Irudayapuram, Mr.Irudayaselvam, Mrs.Arul Shanthi and the leaders of the Vidiyal Disabeld Federation. The president of the function distributed your generous Aids and Appliances to the 25 differently challenged persons. We thanked you sincerely and spoke of your services to the disabled and the extended humanity at large in the function. The beneficiaries too thanked you whole heartedly. We sincerely thank you for extending your generous support towards the well being of the disabled and the CP/MR. These children will not forget you and your humanitarian services towards the needy and the disabled. Thanking you Yours sincerely. A Susainathan Secretary
Tsunami relief Idhayangal donated 124 fishing nets to families devastated by the tsunami in 2004. This was a great way to restart livelihood for the fisherman devastated by the tsunami. Below is the photo from this project.
Donate to Idhayangal Charitable Trust
Cheque in favour of Idhayangal CHARITABLE TRUST
mail: snehasswaminathan@gmail.com
Kindly send cheque in favour of Idhayangal Charitable Trust and post to